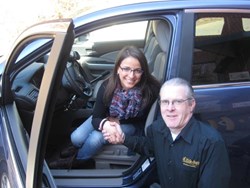 Londonderry, NH (PRWEB) August 20, 2013
Ride-Away, a subsidiary of Hasco Medical, will hold an Open House at their Londonderry, NH location on Thursday, August 22nd, 2013. The event will run from 11:00 a.m. to 8:00 p.m. and will provide customers with a day of activities, prizes, and refreshments.
This customer appreciation event will feature door prizes donated by several major equipment providers in the mobility industry, including Mobility SVM, Explorer Van, Q'Straint, and REQ. Charron Medical Services, Nashua, NH, will also attend the event, providing customers with information on their services and durable medical equipment offerings.
In addition to door prizes, customers will be able to enter a raffle drawing. Two lucky customers will win a set of four tickets to see the Manchester Fishercats play the Portland Sea Dogs at the Northeast Delta Dental Stadium in Manchester, NH on August 27th, 2013 at 6:30 p.m.
The Londonderry, NH Ride-Away Open House will also feature a guest appearance by 2012 Paralympic Gold Medalist and Exeter, NH native, Victoria Arlen. Arlen came to Ride-Away earlier this year when she needed her car to be outfitted with hand controls. Now, Arlen will visit again to attend the Open House from 2:00 p.m. to 4:00 p.m. to meet customers and sign autographs.
Ride-Away will have Certified Mobility Consultants on hand to provide wheelchair accessible vehicle demonstrations and answer any questions on mobility equipment and services. The event will run from 11:00 AM to 8:00 PM at Ride-Away, 54 Wentworth Avenue, Londonderry, NH 03053 on Thursday, August 22nd, 2013. RSVP at: https://londonderryopenhouse.eventbrite.com/.
Get information about special updates, promotions, and future events by subscribing to the Ride-Away Mailing List.
About Ride-Away
Ride-Away is one of America's largest providers of wheelchair vans and adaptive equipment for people with disabilities. Ride-Away products are used by individuals with minor to profound disabilities requiring additional assistance while traveling. Ride-Away provides a range of solutions from hand controls and lifts to raised door and lowered floor vehicle modifications.
Founded in 1986, Ride-Away's 11 East Coast locations are committed to offering a broad selection of specialized vehicles and services to meet the needs of every customer. All of Ride-Away's locations are QAP (Quality Assurance Program) certified through the National Mobility Equipment Dealers Association (NMEDA), resulting in Ride Away being held to the highest standards in the industry. For more information, call (888)-RIDE-AWAY (888-743-3292) or visit our website at http://www.Ride-Away.com.
About HASCO Medical, Inc.
HASCO Medical ("HASC" or the Company) provides products and services that dramatically improve the quality of living for its customers. The Company consists of Southern Medical and Mobility, Inc. and Certified Medical on the DME side and Ride-Away, Mobility Freedom, Wheelchair Vans of America and Certified Auto on the Van Conversion/Rental side of the company. For more information, email investor(at)hascomed(dot)com or visit our website at http://www.hascomed.com .