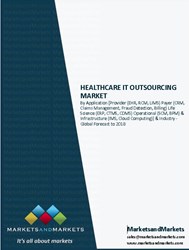 Rockville, MD (PRWEB) August 22, 2013
Healthcare IT Outsourcing Market - Global Forecast
Outsourcing is an emerging phenomenon in the healthcare information technology market. It is a screening process wherein an organization selects the most efficient third-party service provider to effectively operate its management and administrative unit. Outsourcing of IT solutions in the healthcare industry has emerged as an efficient solution to mitigate rising healthcare costs and to meet the growing demand for quality care. Over the years, the trend of outsourcing healthcare IT solutions has grown significantly among large organizations and has also attracted mid-sized organizations. In some cases, the entire information management system is outsourced, while in others, only key application services such as implementation of EMR, CRM, and billing systems are outsourced.
The global HCIT outsourcing market is forecast to grow at a CAGR of 7.6%, to reach $50.4 billion by 2018 from $35 billion in 2013. The health insurance industry, healthcare systems industry, and pharmaceutical industry are driving the HCIT outsourcing market. These industries follow the HCIT outsourcing model to enhance their focus on core business, reduce operational and maintenance costs, increase access to IT skilled and trained staff (further reducing hiring and training costs), share risk, and quickly implement new technologies.
Factors propelling the growth of the market are the rising pressure to curb healthcare costs across the globe and the growing need to manage cash flow in back-office administration and IT management systems of healthcare provider, payers, and the life science segment. Lack of in-house IT expertise, rise in demand for integrating solutions, growing pressure on healthcare providers to meet the "Meaningful Criteria" set by the U.S. Federal Government, new ICD-10 conversion guidelines for coding, rise in aging population, and growing medical tourism in Asia are also likely to drive the HCIT outsourcing market.
However, factors such as the fragmented nature of the healthcare system and HCIT outsourcing market, requirement for high investment in outsourcing IT solutions, growing concern for data security, and cultural and language barriers restrain the growth of the market.
North America accounts for the largest share - 72% - of the global HCIT outsourcing market and is expected to reach $36 billion by 2018 from $25 billion in 2013. Asia-Pacific and RoW are expected to register CAGRs of 8.1% and 7.8% (2013 to 2018) respectively, followed by North America (7.6%), and Europe (7.2%).
To order this report:
Healthcare IT Outsourcing Market - By Application [Provider (EHR, RCM, LIMS) Payer (CRM, Claims Management, Fraud Detection, Billing) Life Science (ERP, CTMS, CDMS) Operational (SCM, BPM) & Infrastructure (IMS, Cloud Computing) & Industry - Global Forecast
Contact: Shauna
800.298.5699
Customerservice(at)marketresearch(dot)com
About MarketsandMarkets
The MarketsandMarkets edge: Worldwide, market research reports are primarily sold for numbers, market segmentation and competitive landscape, within the business leaders.
The analyst working with MarketsandMarkets come from the renowned publishing houses and market research firms globally adding their expertise and domain understanding. We get the facts from over 22,000 news and information sources, a database of hundred thousands of key industry participants and draw on our relationship with more than 900 market research companies globally.
In course of our ongoing relationship with research partners for over a period of three years, our clients have discovered that we can not only head-start any given research project immediately but also execute it in a stipulated time frame. We always prioritize our commitments of confidentiality. The fact that a high percentage of our business comes from client referrals bears ample testimony to the quality of our market research reports.
About MarketResearch.com
MarketResearch.com is the leading provider of global market intelligence products and services. With research reports from more than 720 top consulting and advisory firms, MarketResearch.com offers instant online access to the world's most extensive database of expert insights on global industries, companies, products, and trends. Moreover, MarketResearch.com's Research Specialists have in-depth knowledge of the publishers and the various types of reports in their respective industries and are ready to provide research assistance. For more information, call Cindy Frei at 240.747.3014 or visit http://www.marketresearch.com
Follow us on Facebook http://www.facebook.com/marketresearchdotcom
Follow us on Twitter http://www.twitter.com/marketresearch_
Healthcare IT Outsourcing Market - By Application [Provider (EHR, RCM, LIMS) Payer (CRM, Claims Management, Fraud Detection, Billing) Life Science (ERP, CTMS, CDMS) Operational (SCM, BPM) & Infrastructure (IMS, Cloud Computing) & Industry - Global Forecast – Table of Contents:
1 Introduction
2 Executive Summary
3 Market Dynamics
4 Global Hcit Outsourcing Market, By Application
5 Hcit Outsourcing Market By Industry
6 Geographic Analysis
7 Competitive Landscape
8 Company Profiles (Overview, Products And Services, Financials, Strategy & Development)*
List Of Tables
Table 1 Global Hcit Outsourcing Market, By Application, 2011 – 2018 ($million)
Table 2 Hcit Outsourcing Market, By Geography, 2011 – 2018 ($million)
Table 3 Provider It Outsourcing Market, By Application, 2011 – 2018 ($million)
Table 4 Provider It Outsourcing Market, By Geography, 2011 – 2018 ($million)
Table 5 Ehr Outsourcing Market, By Geography, 2011 – 2018 ($million)
Table 6 Pis Outsourcing Market, By Geography, 2011 – 2018 ($million)
Table 7 Lims Outsourcing Market, By Geography, 2011 – 2018 ($million)
Table 8 Rcm Outsourcing Market, By Geography, 2011 – 2018 ($million)
Table 9 Other Provider It Outsourcing Market, By Geography, 2011 – 2018 ($million)
Table 10 Payer It Outsourcing Market, By Application, 2011 – 2018 ($million)
Table 11 Payer It Outsourcing Market, By Geography, 2011 – 2018 ($million)
Table 12 Crm Outsourcing Market, By Geography, 2011 – 2018 ($million)
Table 13 Claim Processing Outsourcing Market, By Geography, 2011 – 2018 ($million)
Table 14 Billing System Outsourcing Market, By Geography, 2011 – 2018 ($million)
Table 15 Fraud Detection Outsourcing Market, By Geography, 2011 – 2018 ($million)
Table 16 Other Payer It Outsourcing Market, By Geography, 2011 – 2018 ($million)
Table 17 Life Sciencesit Outsourcing Market, By Application, 2011 – 2018 ($million)
Table 18 Life Sciencesit Outsourcing Market, By Geography, 2011 – 2018 ($million)
Table 19 Ctms Outsourcing Market, By Geography, 2011 – 2018 ($million)
Table 20 Cdms Outsourcing Market, By Geography, 2011 – 2018 ($million)
Table 21 Erp Outsourcing Market, By Geography, 2011 – 2018 ($million)
Table 22 R&D It Services Outsourcing Market, By Geography, 2011 – 2018 ($million)
Table 23 Other Life Sciences It Outsourcing Market, By Geography, 2011 – 2018 ($million)
Table 24 Operational It Outsourcing Market, By Application, 2011 – 2018 ($million)
Table 25 Operational It.Outsourcing Market, By Geography, 2011 – 2018 ($million)
Table 26 Scm Outsourcing Market, By Geography, 2011 – 2018 ($million)
Table 27 Bpm Outsourcing Market, By Geography, 2011 – 2018 ($million)
Table 28 Other Operational It Outsourcing Market, By Geography, 011 – 2018 ($million)
Table 29 It Infrastruture Outsourcing Market, By Application, 2011 – 2018 ($million)
Table 30 It Infrastruture Outsourcing Market, By Geography, 2011 – 2018 ($million)
Table 31 Infrastructure Management Services Market, By Geography, 2011 – 2018 ($million)
Table 32 Cloud Computing Outsourcing Market, By Geography, 2011 – 2018 ($million)
Table 33 Other It Infrastructuremarket, By Geography, 2011 – 2018 ($million)
Table 34 Healthcare It Outsourcing Market, By Industry, 2011 – 2018 ($million)
Table 35 Healthcare Provider It Solutions
Table 36 Healthcare Provider Industry It Outsourcing Market, By Geography, 2011 – 2018 ($million)
Table 37 Pharmaceutical It Solutions
Table 38 Pharmaceutical Industry It Outsourcing Market, By Geography, 2011 – 2018 ($million)
Table 39 Biotechnology It Solutions
Table 40 Biotechnology Industry It Outsourcing Market, By Geography, 2011 – 2018 ($million)
Table 41 Clinical Research Organization It Solutions
Table 42 Cro It Outsourcing Market, By Geography, 2011 – 2018 ($million)
Table 43 Health Insurance It Solutions
Table 44 Healthcare Insurance Industry It Outsourcing Market, By Geography, 2011 – 2018 ($million)
Table 45 Other Hcit Solutions
Table 46 Other Industry It Outsourcing Market, By Geography, 2011 – 2018 ($million)
Table 47 Hcit Outsourcing Market, By Geography, 2011 – 2018 ($million)
Table 48 North America: Hcit Outsourcing Market, By Application, 2011 – 2018 ($million)
Table 49 North America: Provider It Outsourcing Market, By Application, 2011 – 2018 ($million)
Table 50 North America: Payer It Outsourcing Market, By Application, 2011 – 2018 ($million)
Table 51 North America: Life Sciencesit Outsourcing Market, By Application, 2011 – 2018 ($million)
Table 52 North America: Operational It Outsourcing Market, By Application, 2011 – 2018 ($million)
Table 53 North America: Infrastructure It Outsourcing Market, By Application, 2011 – 2018 ($million)
Table 54 North America: Hcit Outsourcing Market, By Industry, 2011 – 2018 ($million)
Table 55 North America: Hcit Outsourcing Market, By Country, 2011 – 2018 ($million)
Table 56 North America: Provider It Outsourcing Market, By Country, 2011 – 2018 ($million)
Table 57 North America: Payer It Outsourcing Market, By Country, 2011 – 2018 ($million)
Table 58 North America: Life Sciencesit Outsourcing Market, By Country, 2011 – 2018 ($million)
Table 59 North America: Operational It Outsourcing Market, By Country, 2011 – 2018 ($million)
Table 60 North America It Infrastructure Outsourcing Market, By Country, 2011 – 2018 ($million)
Table 61 Europe: Hcit Outsourcing Market, By Application, 2011 – 2018 ($million)
Table 62 Europe: Provider It Outsourcing Market, By Application, 2011 – 2018 ($million)
Table 63 Europe: Payer It Outsourcing Market, By Application, 2011 – 2018 ($million)
Table 64 Europe: Life Sciences It Outsourcing Market, By Application, 2011 – 2018 ($million)
Table 65 Europe: Operational It Outsourcing Market, By Application, 2011 – 2018 ($million)
Table 66 Europe: It Infrastructure Outsourcing Market, By Application, 2011 – 2018 ($million)
Table 67 Europe: Hcit Outsourcing Market, By Industry, 2011 – 2018 ($million)
Table 68 Europe: Hcit Outsourcing Market, By Country, 2011 – 2018 ($million)
Table 69 Europe: Provider It Outsourcing Market, By Country, 2011 – 2018 ($million)
Table 70 Europe: Payer It Outsourcing Market, By Country, 2011 – 2018 ($million)
Table 71 Europe: Life Sciencesit Outsourcing Market, By Country, 2011 – 2018 ($million)
Table 72 Europe: Operational It Outsourcing Market, By Country, 2011 – 2018 ($million)
Table 73 Europe: Infrastructure It Outsourcing Market, By Country, 2011 – 2018 ($million)
Table 74 Asia-pacific: Hcit Outsourcing Market, By Application, 2011 – 2018 ($million)
Table 75 Asia-pacific: Provider It Outsourcing Market, By Application, 2011 – 2018 ($million)
Table 76 Asia-pacific: Payer It Outsourcing Market, Application, 2011 – 2018 ($million)
Table 77 Asia-pacific: Life Sciencesit Outsourcing Market, By Application, 2011 – 2018 ($million)
Table 78 Asia-pacific: Operational It Outsourcing Market, By Application, 2011 – 2018 ($million)
Table 79 Asia-pacific: It Infrastructure Outsourcing Market, Application, 2011 – 2018 ($million)
Table 80 Asia-pacific: Hcit Outsourcing Market, By Industry, 2011 – 2018 ($million)
Table 81 Asia-pacific: Hcit Outsourcing Market, By Country, 2011 – 2018 ($million)
Table 82 Asia-pacific: Provider It Outsourcing Market, By Country, 2011 – 2018 ($million)
Table 83 Asia-pacific: Payer It Outsourcing Market, By Country, 2011 – 2018 ($million)
Table 84 Asia-pacific: Life Sciencesit Outsourcing Market, By Country, 2011 – 2018 ($million)
Table 85 Asia-pacific: Operational It Outsourcing Market, By Country, 2011 – 2018 ($million)
Table 86 Asia-pacific: It Infrastructure Outsourcing Market, By Country, 2011 – 2018 ($million)
Table 87 Row: Hcit Outsourcing Market, By Application, 2011 – 2018 ($million)
Table 88 Row: Provider It Outsourcing Market, By Application, 2011 – 2018 ($million)
Table 89 Row: Payer It Outsourcing Market, By Application, 2011 – 2018 ($million)
Table 90 Row: Life Sciencesit Outsourcing Market, By Application, 2011 – 2018 ($million)
Table 91 Row: Operational It Outsourcing Market, By Application, 2011 – 2018 ($million)
Table 92 Row: It Infrastructure Outsourcing Market, By Application, 2011 – 2018 ($million)
Table 93 Row: Hcit Outsourcing Market, By Industry, 2011 – 2018 ($million)
Table 94 Row: Hcit Outsourcing Market, By Country, 2011 – 2018 ($million)
Table 95 Row: Provider It Outsourcing Market, By Country, 2011 – 2018 ($million)
Table 96 Row: Payer It Outsourcing Market, By Country, 2011 – 2018 ($million)
Table 97 Row: Life Sciencesit Outsourcing Market, By Country, 2011 – 2018 ($million)
Table 98 Row: Operational It Outsourcing Market, By Country, 2011 – 2018 ($million)
Table 99 Row: It Infrastructure Outsourcing Market, By Country, 2011 – 2018 ($million)
Table 100 Agreements, Contract Extensions, Partnerships, And Collaborations, 2010 – 2013
Table 101 New Product Launch, 2010 – 2013
Table 102 Acquisitions, 2010 – 2013
Table 103 Expansions, 2010 – 2013
Table 104 Accenture: Total Revenue And R&D Expenditure, 2010 – 2012 ($million)
Table 105 Accenture: Total Revenue, By Segment, 2010 – 2012 ($million)
Table 106 Accenture: Total Revenue, By Sub-segment, 2010 – 2012 ($million)
Table 107 Accenture: Total Revenue, By Geography, 2010 – 2012 ($million)
Table 108 Accretive Health: Total Revenue And R&D Expenditure, 2009 – 2011 ($million)
Table 109 Accretive Health: Total Revenue, By Segment, 2009 – 2011 ($million)
Table 110 Allscripts: Total Revenue And R&D Expenditure, 2010 – 2012 ($million)
Table 111 Allscripts: Total Revenue, By Segment, 2010 – 2012 ($million)
Table 112 Allscripts: Total Revenue, By Geography, 2010 – 2012 ($million)
Table 113 Cognizant: Total Revenue, By Segment, 2010 – 2012 ($million)
Table 114 Cognizant: Total Revenue, By Geography, 2010 – 2012 ($million)
Table 115 Dell, Inc: Total Revenue And R&D Expenditure, 2010 – 2012 ($million)
Table 116 Dell, Inc: Total Revenue, By Product And Services, 2010 – 2012 ($million)
Table 117 Dell, Inc: Total Revenue, By Segment, 2010 – 2012 ($million)
Table 118 Dell, Inc: Total Revenue, By Sub-segment, 2010 – 2012 ($million)
Table 119 Dell, Inc: Total Revenue, By Geography, 2010 – 2012 ($million)
Table 120 Hcl: Total Revenue, By Segment, 2010 – 2012 ($million)
Table 121 Hcl: Total Revenue, By Geography, 2010 – 2012 ($million)
Table 122 Hewlett-packard: Total Revenue And R&D Expenditure, 2010 – 2012 ($million)
Table 123 Hewlett-packard: Total Revenue, By Segment, 2010 – 2012 ($million)
Table 124 Hewlett-packard: Total Revenue, By Geography, 2010 – 2012 ($million)
Table 125 Ibm: Total Revenue And R&D Expenditure, 2010 – 2012 ($million)
Table 126 Ibm: Total Revenue, By Segment, 2010 – 2012 ($million)
Table 127 Ibm: Total Revenue, By Outsourcing Services, 2010 – 2012 ($million)
Table 128 Ibm: Total Revenue, By Geography, 2010 – 2012 ($million)
Table 129 Infosys, Ltd: Total Revenue And R&D Expenditure, 2010 – 2012 ($million)
Table 130 Infosys, Ltd: Total Revenue, By Segment, 2011 – 2012 ($million)
Table 131 Infosys, Ltd: Total Revenue, By Geography, 2010 – 2012 ($million)
Table 132 Mckesson Corporation: Total Revenue And R&D Expenses, 2010 – 2012 ($million)
Table 133 Mckesson Corporation: Total Revenue, By Segment, 2010 – 2012 ($million)
Table 134 Mckesson Corporation: Total Revenue, By Geography, 2010 – 2012 ($million)
Table 135 Siemens Ag: Total Revenue And R&D Expenditure, 2010 – 2012 ($million)
Table 136 Siemens Ag: Total Revenue, By Segment, 2010 – 2012 ($million)
Table 137 Siemens Ag: Total Revenue, By Geography, 2010 – 2012 ($million)
Table 138 Tata Consultancy Services Ltd.: Total Revenue And R&D Expenditure, 2010 – 2012 ($million)
Table 139 Tata Consultancy Services Ltd.: Total Revenue, By Services, 2011 – 2012 ($million)
Table 140 Tata Consultancy Services Ltd: Total Revenue, By Geography, 2010 – 2012 ($million)
Table 141 Wipro: Total Revenue And R&D Expenditure, 2010 – 2012 ($million)
Table 142 Wipro: Total Revenue, By Segment, 2010 – 2012 ($million)
Table 143 Wipro: Total Revenue, By Geography, 2010 – 2012 ($million)
Table 144 Xerox: Total Revenue And R&D Expenditure, 2010 – 2012 ($million)
Table 145 Xerox: Total Revenue, By Segment, 2010 – 2012 ($million)
Table 146 Xerox: Total Revenue, By Services, 2010 – 2012 ($million)
Table 147 Xerox: Total Revenue, By Geography, 2010 – 2012 ($million)
List Of Figures
Figure 1 Healthcare It Outsourcing Market, By Application, 2013 - 2018 ($million)
Figure 2 Key Reasons For Hcit Outsourcing
Figure 3 Global Hcit Outsourcing: Five-stage Process Model
Figure 4 Global Hcit Outsourcing Segmentation
Figure 5 Global Hcit Outsourcing Market Dynamics
Figure 6 Healthcare Spending, By Geography, % Of Gdp (2010)
Figure 7 Hcit Outsourcing Market, Geographic Ranking ,2013
Figure 8 Key Growth Strategies, 2010 – 2013
Figure 9 Agreements, Contract Extensions, Partnerships, And Collaborations, By Company, 2010 – 2013
Figure 10 New Product Launch, By Company, 2010 – 2013
Figure 11 Acqusitions, By Company, 2010 – 2013