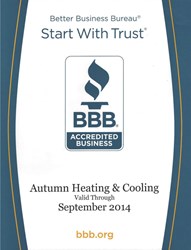 We value each of our customers and ensure that each customer gets complete satisfaction through our air conditioning repair service in Austin, TX.
Austin,TX (PRWEB) August 27, 2013
This week, Autumn Heating & Cooling celebrates 17 years of accreditation by BBB serving central Texas. As a BBB accredited business, Autumn Heating & Cooling is dedicated to promoting trust in the marketplace.
According to the BBB reports by Princeton Research, seven in ten consumers say they are more likely to buy from a company designated as a BBB accredited business. BBB is a resource for the public, providing objective, unbiased information about businesses.
"We're proud to celebrate 17 years of BBB accreditation because we value building trust with our customers," said by Michael Vacek owner of Autumn Heating & Cooling. "Our BBB Accreditation gives our customers confidence in our commitment to maintaining high ethical standards of conduct."
BBB accredited businesses must adhere to BBB accreditation standards, a comprehensive set of policies, procedures and best practices representing trustworthiness in the marketplace. The standards call for building trust, embodying integrity, advertising honestly and telling the truth, being transparent, honoring promises, being responsive and safeguarding privacy.
About Autumn Heating & Cooling
When the air conditioner needs service, repair, or replacement, customers want a knowledgeable, skilled professional that can be counted on to do the job right and to provide courteous air conditioning service that will make customer remember Autumn Heating & Cooling for the next time air conditioning repair in Austin. Autumn Heating & Cooling provides customers with award winning services, all performed by qualified NATE HVAC certified air conditioning technicians. With huge discounts, low service fees, an excellent product line, and top-notch service guarantees, this trusted Austin area business has the customer covered, whatever air conditioning services are needed.
The summer season and its hot temperatures are here. Because of this, customers will want to ensure that the air conditioner is running both effectively and efficiently, keeping the home cool and comfy through those long, hot summer nights without leaving a big hole in your piggy bank. Autumn Heating & Cooling is available to provide ac service in Austin to ensure customer's air conditioners are working properly before the season hits or whenever needed. Of course, if the air conditioner is not running smoothly or quits altogether during this HOT Texas Summer, this BBB A+ business provides qualified technicians 24 hours a day to provide ac service calls and air conditioning repair so the customer won't have to remain in the Texas Summer Heat for long.
About BBB
BBB's mission is to be the leader in advancing marketplace trust. BBB accomplishes this mission by creating a community of trustworthy businesses, setting standards for marketplace trust, encouraging and supporting best practices, celebrating marketplace role models and denouncing substandard marketplace behavior.
Businesses that earn BBB accreditation contractually agree and adhere to the organization's high standards of ethical business behavior. BBB is the preeminent resource to turn to for objective, unbiased information on businesses and charities.