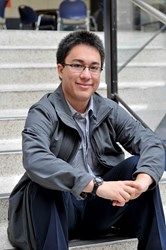 Houston, TX (PRWEB) August 28, 2013
Entering college at 11 years old was just the logical next step for David Levy, who had skipped both kindergarten and fifth grade. Now at 19, Levy is entering one of the most vital industries of the 21st century, all thanks to a hobby he discovered at San Jacinto College.
"It was definitely a step up from middle school," laughed Levy, who graduated from San Jacinto College with his associate degree at 14. Although his bachelor's and master's degrees are in mechanical engineering, Levy spent some of his free time learning about computer programming. "I used to hang out in the computer lab a lot," he said. "I was getting my associate degree in mathematics, but programming was just something I had an interest in. I took my first programming class at San Jacinto College and learned a lot."
San Jacinto College computer information technology (CIT) and computer science professors, Jim Meeks and Pamela Betts, who had Levy as a student, remember the skills he showed early on. "I remember teaching a hardware class where most of the students were adults, and then here is this 13-year-old kid showing them how to build computers," said Meeks. "He was also writing his own cell phone apps in his spare time," Meeks added. "David was involved with the Game Enterprise Guild, a student organization that develops gaming software, and was part of our programming team that took second place in a University of Houston-Clear Lake (UHCL) programming competition in 2008," said Betts.
Computer programming is one of the most rapidly growing sectors of the computer technology field. Programmers create, modify, and test the code, forms, and script that allow computer applications to run. They also assist software developers by analyzing user needs and designing software solutions. According to the United States Bureau of Labor Statistics (BLS), by 2018, computing careers in the U.S. will grow by 21 percent, or 800,000 new jobs, which is more than double the growth rate of all occupations in the U.S. There is just one problem – there are not enough people to fill them.
In the 2013 U.S. News and World Report's annual "100 Best Jobs" list, computer programming ranked 13th overall, with six more computer technology careers listed within the top 20. Computer science educators and industry professionals argue that since computer science is only seen as a subfield in STEM (science, technology, engineering, and mathematics) education, it lends itself to only focusing on lower-level skills rather than in-depth computer science concepts and capabilities. Organizations like Computing in the Core (CinC) and Code.org are advocating for computer science education to be elevated to a core academic subject in K–12 education, and their voices are being heard.
In July, the United States House of Representatives passed the Student Success Act, which reauthorizes the Elementary and Secondary Education Act (ESEA) and includes K–12 computer science educators in professional development initiatives under the ESEA. According to a recent report by the National Center for Women and Information Technology, Texas ranks second in the top 10 states projected to have the most annual computing job openings, with an estimated average of 12,770. California ranked first, with an estimated average of 20,950 computing job openings each year. However, Code.org states that less than 2.4 percent of college students graduate with a degree in computer science, which is less than 10 years ago.
The employment and earning potential, along with the necessity, is what drives educators to start engaging students at an early age. Coding camps for children and teens have seen a major increase across the U.S. within the last few years. Now in its fourth year, iD Tech Camps, the largest technology camp in the world, offers an array of camps for ages 7–17 at over 60 of the top universities in the country. Based out of Silicon Valley, iD Tech Camps feature camps in game design, app programming, web design, robotics engineering, 3D animation, film production, photography, and additional online workshops. Their overall camp enrollment has increased from just 200 students in 1999 to 28,000 students nationwide this year.
Since 2009, Computer Science Education (CSEd) Week is held annually in December to generate national awareness of computer science education and the critical skills it provides for the 21st century workforce. CSEd Week is held in recognition of Rear Adm. Grace Murray Hopper's birthday (Dec. 9, 1906). A computer science pioneer, she was one of the first programmers of the Harvard Mark I computer, developed the first compiler for a computer programming language, and is credited with popularizing the term "debugging" for computer glitches, after a moth was actually removed from a computer. This year's CSEd Week is Dec. 8 – 14, with a focus on an "Hour of Code," encouraging all educators to dedicate one hour of class time to either introduce their students to computer science and programming, or further creativity for those that are currently learning.
Both Meeks and Betts agree that San Jacinto College's CIT department has seen the need developing and continues to prepare students for the numerous career opportunities in the industry. "Our advisory committee is made up of industry professionals to ensure our curriculum is advancing with industry needs," said Meeks. "The San Jacinto College Central and North Campuses have had success with robotics courses, student projects, and competitions. The South Campus will also be adding a new robotics initiative with Technology Fridays, incorporating students from all three campuses meeting at UHCL with their STEM students, focusing on robotics. Robotics allows students to actively engage in the programming and engineering processes from design to operation."
Having completed his master's degree at Texas A&M University, Levy recently accepted a programming position at Bloomberg LP in New York City, and has begun the company's 16-week programming and software training. Bloomberg, one of the largest global financial information technology enterprises, provides real time financial data, news, and analytics through its Bloomberg Professional service and multimedia properties spanning TV, radio, digital, and print. Although he completed his education much earlier than most, he does not see himself as unique, saying that anyone can do the same. Levy thanks San Jacinto College for providing an open door to explore an area of interest that unexpectedly led to his new career, and the quality faculty that genuinely take an interest in student success.
"I've always thought that San Jacinto College was the best school I had ever been to," he said. "The professors really valued their students and were always willing to help you. I think the best thing about San Jacinto College is that anyone can come here and get an education- from those in retirement ages to kids that are 10 or 11 years old like I was."
About San Jacinto College
Surrounded by monuments of history, industries and maritime enterprises of today, and the space age of tomorrow, San Jacinto College has been serving the citizens of East Harris County, Texas, for more than 50 years. The Achieving the Dream Leader College is committed to the goals and aspirations of a diverse population of 30,000 students in more than 200 degree and certificate options, including university transfer and career preparation. Students also benefit from the College's job training programs, renowned for meeting the needs of growing industries in the region. San Jacinto College graduates contribute nearly $630 million each year to the Texas workforce. San Jacinto College. Your Goals. Your College.
For more information about San Jacinto College, please call 281-998-6150, visit http://www.sanjac.edu, or follow us on Facebook at http://www.facebook.com/SanJacintoCollege.
###