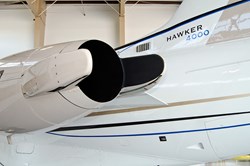 There's no compromise in this airplane. It's very fast, comfortable and efficient.
New York, New York (PRWEB) August 20, 2013
Talon Air, Inc., New York's leading Private Jet Charter and Aircraft Management Company, announced today that it has added four brand new Hawker 4000 business jets to its fleet of aircraft. The addition of these premier aircraft are part of the company's continued expansion to serve the growing super midsize jet market.
The four new Hawker 4000s are conveniently based at Talon Air's new 100,000 sq ft state-of-the-art hangar and office complex located at Republic Airport (KFRG) in Farmingdale, Long Island. With nine Hawker 4000s on Talon Air's Part 135 Charter Certificate, Talon remains the largest Hawker 4000 owner and operator in the world. These new aircraft allow Talon to meet the overwhelming customer demand for late model business jets that are most requested in the jet charter industry.
Talon's Hawker 4000s are equipped with High Speed Internet/Wi-Fi, 2 oversized cabin monitors, Airshow, Satellite Phone, iPod connections and a CD/DVD system. The on-board amenities make it an ideal choice for both international and domestic travel. This private jet is one of the most advanced and luxurious super-midsize business jets in the world. With its unique composite fuselage, the aircraft boasts eight individual captain chairs and a six-foot high stand-up cabin from front to back offering one of the largest cabin in its class.
The Hawker 4000 serves as an indispensable business tool, getting charter clients where they need to be with convenience, luxury and peace of mind. Hawker Beechcraft designed a quiet, comfortable environment ideally suited for working or relaxing. "In almost every other airplane, something has been sacrificed," said Adam Katz President and CEO. "There's no compromise in this airplane. It's very fast, comfortable and efficient."
Its performance has allowed Talon Air to operate from airports that typically cannot accommodate aircraft of its size. The Hawker 4000 has opened airports with short runways to Talon's clients such as Ocean Reef, Florida (4500 feet), Hilton Head, South Carolina (4300 feet) and East Hampton, New York (4255 feet). The world's most remote destinations become easily accessible with Talon Air's Hawker 4000.
About Talon Air:
Since 2001, Talon Air has delivered an unparalleled level of consistency and customer service to the Business Aviation Community. Talon has emerged as the United States fastest growing full service private jet charter operator, aircraft management and maintenance service provider. Talon's fleet of business jets operate from its state of the art 100,000-sq-ft hangar and office complex at Republic Airport (FRG) in Farmingdale, NY with additional operating bases in Bedford, MA (BED) and Stuart, FL (SUA). Talon Air operates one of the most diverse fleets in private aviation including a Gulfstream V, Gulfstream IVSP, Challenger 300, Hawker 4000, Hawker 800XP, Hawker 400XP, Hawker 400A, King Air 350i, King Air 300, King Air B200, Amphibious Caravan, Baron G58, and Sikorsky S76B. As a Wyvern Wingman, ARG/US Platinum and an IS-BAO Stage 2 registered company, Talon Air is considered the premier turnkey aircraft management, on-demand charter and aircraft maintenance provider. More information is available by calling 631.753.8881 or by visiting http://www.TalonAirJets.com.