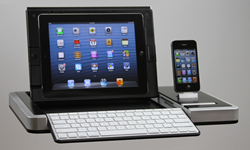 This is far more than just another iPad case or accessory that includes a small keyboard attachment...
San Diego, CA (PRWEB) August 20, 2013
Modus lll – the dynamic iPad productivity headquarters, launched its official Kickstarter campaign today, allowing the public to pre-order Modus lll and jumpstart it into full production. The Modus lll introductory video can be found here.
In a 2012 "iPad usage" study conducted by BusinessInsider.com, more than 46.7 percent of iPad owners said that they use it as their primary computer.
"This is far more than just another case or accessory that includes a small keyboard attachment - the flood of great new apps has positively exploded and the iPad has matured into a real-world productivity tool," said D.J. Sherman, co-founder at Modus lll. "The missing link was a workspace that's evolved along with it."
Modus lll creates a comfortable, private workstation that makes your iPad and smartphone infinitely more manageable. The premium laptop size keyboard even has an adjustable angle and is a pleasure to use. Modus lll is the optimum environment that maximizes comfort, convenience and versatility, yet it's lightweight and portable at just 2.4 lbs., slightly more than the leading high end tablet-keyboard case. Users can also choose to click the elegant, highly-protective case out of Modus lll and conveniently go ultra-mobile with the iPad.
The modular element of Modus lll offers users a seamless path to upgrade and versatility was bred into the design. For example, when the iPad 5 is announced, a new Modus lll case will be available at a no cost to Kickstarter and Modus lll owners can click it right back into their workstation — Modus lll moves with new technology.
Owners of Modus lll will feel this new environment richly enhancing the intuitive experience that millions of people have come to love with their iPads and smartphones. The introductory model fits iPad 2, 3 and 4, all iPhones and micro USB Android smartphones.
Modus lll Exclusive and Other Key Features:

Built-in, premium laptop-sized Bluetooth keyboard with ergonomic typing angles (adjustable to 12 degrees)
180-degree adjustable screen viewing angles
ErgoTrak patent-pending slide rail system(customized tablet and keyboard positioning 7" front to back)
Adjustable angle smartphone docking station(lighting, 30-pin and micro USB adapters included)
Rear storage compartment for plugs, cords or misc. items
One-click release of iPad/tablet for freehand use
Mini-amphitheater speaker sound enhancement
Modular protective iPad/tablet case with path to upgrade
Integrated power and volume buttons
Interchangeable iPad dock for 30 pin and lighting (both included)
Highly protective, lightweight design with aircraft-grade aluminum frame and high-strength polycarbonate interior (Both 100 percent recyclable)
Wall-charge devices while stationed inside Modus lll
Full access to ports, function buttons and camera
TSA checkpoint-friendly
Product Specs:

Dimensions: 1.2" x 15.75" x 11.50"
Construction: Aircraft-grade 7060 aluminum frame. High-strength polycarbonate body and removable case.
Weight: 2.4 lbs
Keyboard Power: Apple standard, two AA batteries (included)
How to get Modus lll:
The Modus lll Kickstarter campaign is live as of today (Tuesday, August 20): http://kck.st/170ckUL. Early adopters can take advantage of the incredible limited quantity special at $169 (first 125 units). After that, pricing will shift to $179 (for the next 175 units), $189 (for the next 225 units) and then to $199 thereafter. MSRP for Modus III is $299. Custom color schemes are also available on Kickstarter at slightly higher prices.
Upon successful funding on Kickstarter, Modus lll will immediately move into its 4 to 5 month first run production schedule.
"We know that some crowd-funding projects can have difficulty following through on their promises once the funds are raised, which is why our team secured Hotwire Development, LLC, a full-circle product development partner with a 20-year proven track record of success," said Patrick Peterhans, co-founder at Modus lll. "While most firms focus on concept refinement and prototyping, our award-winning team will also oversee the entire process of tooling and production."
About Modus III:
As the iPad becomes more universally used as a bonafide productivity tool, the features of the workspace we use also evolves.
We looked for the optimum environment that maximized comfort, convenience and versatility. Finding nothing adequate, it was time to design something that went beyond the laptop experience. Modus literally means 'the way' – a simpler, easier and better way to stay comfortable, organized and productive. It's the Modus lll way and it's live on Kickstarter as of today, August 20, 2013. For more information about Modus III and our Kickstarter campaign, visit http://www.GetModus3.com or watch our introductory video: http://youtu.be/3Uw0uDdd6C4 .
Social Links: