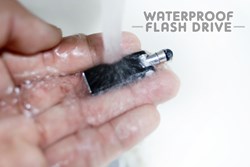 New York, NY (PRWEB) August 21, 2013
A Kickstarter campaign running from August 1 to September 15 will raise production funding for a new, cool gadget: the US3 Flash Drive. The unique new take on a traditional USB drive offers big storage capacity in a compact, waterproof drive that is also a touch-screen stylus and smart phone stand.
Ideal for students, business professionals and gamers alike, the three-in-one US3 drive is currently in prototype phase. It will eventually be available in multiple sizes (8GB, 16GB, 32GB and 64GB) and colors (violet, blue, pink, yellow, black and white). It will also include a detachable keychain lanyard.
The completely waterproof USB drive features a Samsung memory chip and will work with all USB compatible devices. The stylus will work with all touch-screen devices. The smart phone stand will be compatible with all Android and Apple phones.
The parent company, USAgreatbuys, is using Kickstarter to raise a goal amount of $20,000 that will be used to produce the first batch of products and packaging. Those who pledge on Kickstarter page will receive a free USB drive—memory size and color options depend on the pledge level.
The US3 Drive has already been featured on a number of influential technology blogs including Ubergizmo, 9to5Mac, TechnologyTell, LiveJournal, LadiesGadgets and SpicyTech.
For more information, visit http://kck.st/12I3pYF.
About USAgreatbuys
USAgreatbuys is a technology product development company co-founded by Sachin Doshi and Chitanshu Vora. Their flagship product, the US3 Drive, will revolutionize how people store and share data across technology products. Working with a team of passionate and experienced professionals, USAgreatbuys is focused on its goal of creating tech products that change the way people relate to technology.