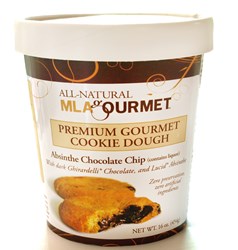 It was popular with 19th century Parisian artists and gained a reputation – partially based on myth - as a hallucinogen. It was legalized in the U.S. in 2007.
Atlanta, Georgia (PRWEB) August 28, 2013
MLA Gourmet, the makers of premium gourmet all-natural cookie gifts and cookie doughs, today announced that it is the first company to introduce a liquor infused cookie dough into the marketplace. The new creation underscores MLA Gourmet's commitment to creativity and quality in baking products.
This new product launch will be marked with in-store tastings at Whole Foods Markets. "This product launch is an exciting milestone for MLA Gourmet", said Monique L. Armstrong, the founder of the company. "We are thrilled that Whole Foods has recognized the quality of our product by putting it on their shelves. We appreciate their commitment to sourcing local products for their stores."
MLA Gourmet has also introduced two other flavors: Original Chocolate Chip, a premium version of the traditional classic, and Mochaccino Chocolate Chip, which was invented by MLA Gourmet and is a triple chocolate chip cookie with Ghirardelli dark chocolate, white chocolate, and coffee. The cookie doughs are located in the Frozen Desserts section.
MLA Gourmet has been producing premium all-natural cookie gifts since October, 2008. It is known for selling corporate gifts via its online shop during the holiday season. On July 12, 2013, MLA Gourmet founder, Monique L. Armstrong delivered an MLA Gourmet cookie gift to singer, Beyoncé before the Atlanta performance of her Mrs. Carter Show World Tour. The gift was a "Thank you" for the singer's support of Goodwill Industries International, Inc. through her recent "Beygood" initiative. Armstrong is a 2011 graduate of the Goodwill MicroMax program which assists entrepreneurs.
"MLA Gourmet is in a great position to expand beyond our seasonal, online business into grocery. We hope to make MLA Gourmet Premium Cookie Doughs available at every Whole Foods Market in the country", added Armstrong.
The new Absinthe Chocolate Chip cookie dough is made with Lucid Absinthe. Absinthe is a green anise flavored liquor made with herbs and botanicals. It was popular with 19th century Parisian artists and gained a reputation – partially based on myth - as a hallucinogen. It was legalized in the U.S. in 2007. T.A. Breaux, who formulated Lucid and was instrumental in legalizing absinthe, says about the cookie: "We thought they [Absinthe Chocolate Chip] were quite delightful just the way they were. There's just enough Lucid to tease, which is the way it should be."
About MLA Gourmet
MLA Gourmet was founded in metro Atlanta in 2008 by Monique L. Armstrong, a former Marketing Director for local engineering firms. She is a photographer, and self-taught baker and graphic designer who creates all of the recipes and photographs and designs the marketing materials and packaging. The company's unique cookies-for-grownups contain non-traditional cookie ingredients like liquor and coffee. They are made with premium Ghirardelli chocolate and other all-natural ingredients. The company's mission is to produce the ultimate all-natural indulgence that people will love to eat, and to ship delicious cookie gifts that people will love to give and receive. For more information about MLA Gourmet visit its website at http://www.MLAGourmet.com/.