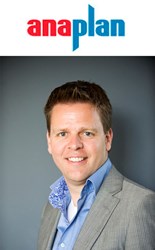 In less than twelve months we've achieved a consolidated view of what we've been selling. We have global visibility. And in turn that has shown our sales teams the gap between their feelings about the forecasts and the facts.
Utrecht (PRWEB) August 21, 2013
Anaplan, the world leader in cloud-based, in-memory modeling and planning solutions for finance and operations, today announced its expansion into the Benelux region with the opening of an office in Utrecht (the Netherlands). The company has appointed two performance management veterans – Marco van Oosterhout and Mark Deprez - to lead the Benelux activities.
"After opening our European offices in the United Kingdom, France and Sweden, we again deliver on our promise to expand in Europe and bring our unique modeling and planning platform to local markets, supported by local experts. Our newly appointed Benelux team will provide customers in the region with a first class local service," said Anaplan CEO Frederic Laluyaux.
Marco van Oosterhout (managing director Anaplan Benelux) has over 15 years of experience in the Enterprise Performance Management (EPM) software industry. He previously worked at Frango and SRC Software. Marco was also one of the co-founders of OutlookSoft in The Netherlands and responsible for the growth of this EPM startup from scratch to a top three EPM player in the Dutch market space. After the acquisition of OutlookSoft by SAP, Marco was responsible for selling the EPM solutions for SAP in the Netherlands. Marco worked most recently at Excentive. Mark Deprez (managing partner Anaplan Benelux) has over 20 years of experience in EPM. He has worked for startup companies such as Frango /SRC Software and Outlooksoft (as co-founder of the Benelux entity), as well as at major players such as Oracle and SAP.
"Anaplan is growing at a very fast pace as its applications continue to address companies needs for integrated modeling and planning in a highly complex, competitive and fast moving environment," said Marco van Oosterhout. "Traditional on-premise and other cloud solutions cannot match Anaplan, which is built from the ground up with its advanced in-memory technology, cloud deployment and multi-layer security. We are able to support large volumes of data and enable users from across the enterprise to connect on one single platform, sharing the same real-time information."
"Anaplan brings the business back in the driver's seat," said Mark Deprez. "In the past, planning and modeling has gradually become an IT thing, keeping business at a distance. We change the playing field by offering user-friendly and advanced solutions to business users who are also invited to exchange ideas and experiences in the open Anaplan community."
Anaplan has seen demand for its innovative cloud software grow rapidly, as new customers also in the Benelux take advantage of its solutions to model and plan their businesses, including a project started for end to end planning at Janssen Pharmaceutical Companies of Johnson & Johnson and Bosal, who use Anaplan for sales and operational planning. "In less than twelve months we've achieved a consolidated view of what we've been selling," said Arthur van Bergen, Bosal's Director of Supply Chain in the Aftermarkets. "We have global visibility. And in turn that has shown our sales teams the gap between their feelings about the forecasts and the facts. With Anaplan, we're no longer talking about estimates, we're talking about objective numbers. In short, we've moved from planning what we think would be sold to executing plans to deliver on what we forecast would be sold."
In the last twelve months, large European organizations including Kimberly-Clark Eastern Europe, Aviva and Taylor Wimpey were added to an impressive list of North American customers including McAfee, Pandora and HP.
About Anaplan
Anaplan is a cloud-based, in-memory modeling and planning platform for finance, sales, and operations that enables business users to intuitively and dynamically test and operationalize their plans, manage complex multi-dimensional models, collaborate across functions and regions, and share insights and content via the built-in community.
Anaplan and its partners have introduced a series of packages for finance, marketing, operations, human resources, as well as a complete sales performance management application suite, which includes quota, territory and commissions management, real-time quote, and price optimization.
Anaplan is funded by Meritech Capital Partners, Granite Ventures, and Shasta Ventures. Anaplan was granted the Gartner Cool Vendor Award and the Ventana Research Technology Operational Innovation Award for Sales Management in 2012. To learn more about Anaplan, please visit http://www.anaplan.com or on twitter: @anaplan
For more information, please contact:
Mark Sarbiewski
Chief Marketing Officer
+1 650-224-6831
mark(at)anaplan(dot)com
US Media Contact:
David Patterson
+1 415-247-1666
patterson(at)merrittgrp(dot)com
Jayne Goodman
EMEA Marketing Director
jayne(dot)goodman(at)anaplan(dot)com
+ 44 (0) 1753 272 261