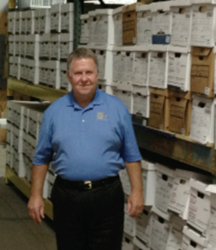 The File Depot is a truly unique offering. The low employee count and lack of multiple competitors in this space means they are poised for rapid growth.
Slidell, LA (PRWEB) August 21, 2013
The File Depot has been operating corporate-owned and licensed storage locations in Louisiana and throughout the south since 1996. Their unique offering provides off-site storage for legal, patient, and other important records, with easy accessibility to the client, and a highly profitable business model to the business owner.
Now, owners State Senator A.G. Crowe, and Rob Perry take their business to the next level, by creating a true franchise program and begin nation-wide expansion. "This is a very unique and highly profitable business service niche that every business or office needs. The File Depot chose to expand nationally by franchising because we believe local ownership is the best guarantee to achieve the highest level of customer satisfaction," says Crowe.
By taking advantage of the franchise model, The File Depot will have the ability to expand rapidly and to fuel the growth of their niche service offering. In order to take this next step, The File Depot has joined forces with franchise consultant team Franchise Beacon. Mr. Perry recently explained this decision, "We felt Beacon had the experience and expertise to take us national and the flexibility to allow us to tap into their full range of services as we grew into them," he explained.
"The File Depot is truly a unique offering," said Franchise Beacon's President, Michael Peterson. "The low employee count, proprietary records management system, and the lack of multiple competitors operating in this space means they are poised for rapid growth".
Franchise Beacon offers a unique approach that remains unmatched by any other firm in the industry, he noted, and the company has developed the first ever Virtual Franchise Development Department.
Besides helping The File Depot design its expansion strategy, Franchise Beacon also assists clients in preparing feasibility studies, strategic planning, business plans, legal documents, operations manuals and marketing materials.
Franchise Beacon has a unique offering as franchise developers, in that everyone involved in the company has been involved in the franchising space as a franchisee, a franchisor, or both.
Business owners can learn more about Franchise Beacon and its strategic management process and The File Depot franchise opportunity by visiting http://www.franchisebeacon.com or calling 888-886-6578.