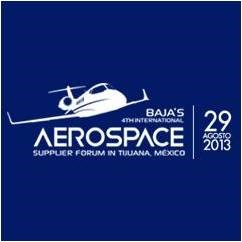 Tijuana, Mexico (PRWEB) August 20, 2013
The preparations are almost complete for August 29, when the official kick off of the event takes place. "We are eager to show the State's potential and position ourselves as Mexico´s premier state for both Aerospace and Defense manufacturing," announced officials of Baja California State Government, along with the Baja California Aerospace Cluster, Tijuana EDC and its municipal counterparts State Economic Development Organizations.
Now that the global aerospace industry has turned its attention towards Mexico, the country´s aerospace and defense hub, Baja California, will congregate top leaders of Mexican Aerospace Industry, U.S. Defense Industry professionals, representatives of global manufacturing companies and several delegations expected at the event.
The event will showcase a key note presentation by SAFRAN that will talk about supplier development and integration to the Aerospace Industry. Additionally featured in a panel discussion format will be the BASA agreement, ITAR and regulations applicable to Aerospace manufacturing in Mexico, with participation of Mexico´s leading aerospace professionals such as Flavio Diaz Mirón, Alfredo Nolasco, Chief Country Representative of Bombardier Mexico, and Agustin Cano from the DGAC (FAAs Mexican counterpart).
The State of Baja California stands out as Mexico´s premier state for aerospace manufacturing and is home for 25 percent of Aerospace companies in the country, with over 64 firms that represent a value of imports of $1.2 billion annually. Representatives from leading manufacturing firms such as Eaton, Esterline, Zodiac, will participate in the B2B meetings that this year accounts a registration of over 75 companies.
One key event will be the Tijuana industrial tour, dozens of companies have signed up to learn first-hand of the competitive advantages gained by global aerospace and defense companies, the tour will visit Conesys, Benchmark Mexico – formerly Suntron-, and Barry Avenue Plating where attendees will have lunch with industrial top leaders of the region before visiting the Eaton Aerospace facilities, ending with a cocktail at Hotel Rosarito to do networking, share experiences, and taste a sample of the Baja´s cuisine. Two additional industrial tours are scheduled for Mexicali and Ensenada on that same day.
About Tijuana EDC: Founded in 1989, the non-profit Tijuana Economic Development Corporation (DEITAC as its acronym in Spanish) has been dedicated to helping companies of all types take advantage of the benefits found in the Tijuana. With over 130 private-sector members from both sides of the border who are experts in areas like industrial development, construction, law, accounting, custom brokerage and logistics, maquiladora/shelter services and more, the Tijuana EDC can help your company map out a new path to profits and competitiveness.