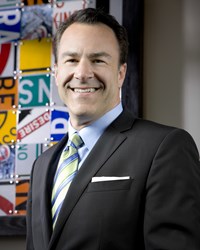 My concern is always for the safety of everyone involved. My number one tip... See the other person. Don't see the cyclist or the bike, see the human being operating it and do whatever you can to help keep that person safe.
Ann Arbor, Michigan (PRWEB) August 19, 2013
Bike sharing programs have been popular in Europe for quite a while and now this eco-friendly transit solution is gaining momentum here in the United States. It's a simple concept: bikes are set up at drop-off locations throughout a city and people pay for a membership to use them. Bike sharing allows people who need to make short commutes within a city, or tourists who want to see the sights, an opportunity to do so without having to use their cars. The number of bikes, drop-off locations, membership types and cost all vary from program to program, but the ultimate goal of these programs is the same: to get people hooked on cycling.
Bicycle Attorney Jason Waechter, who runs http://www.bicycleaccidentlawyersusa.com thinks bike sharing programs are a great idea, but questions whether or not safety issues are sufficiently considered when planning for the programs. "Bike sharing is great. These programs allow people to get outside and get active. They reduce vehicle emissions and traffic in general, and they can make commuting from place to place more fun," he says. "But even with all the positives, these programs are risky for users. You're putting bikes on the roads with motor vehicles," he points out, "and I would like to see reminders to drivers to watch out for bicycles as a prominent part of their awareness campaign." Waechter believes the biggest problem is a lack of motorist awareness, and he is not the only one who has concerns about safety.
Ann Arbor City Council recently voted in favor of a bike sharing program that would include 14 drop-off stations and 125 bikes available for members to use. City Council Member Sally Petersen voted against the program, citing safety reasons. "I just don't feel like our city has the safety infrastructure right now to support this," Petersen said in an article published on AnnArbor.com on August 9th, 2013.
Quicken Loans has also initiated a bike sharing program for employees in the City of Detroit, and in this location in particular, Waechter believes more needs to be done to raise awareness of bicyclists on the roads, and to educate motorists on how to interact safely with them. "Maybe it's a cliché, but we live in the 'Motor City'. Motorists are not used to having cyclists on the roads, and I think without raising a lot of awareness and providing a lot of education for motorists on how to keep cyclists safe, these programs carry a great risk."
On his website, http://www.bicycleaccidentlawyersusa.com, Waechter provides information for motorists and cyclists on how to share the road more safely. Waechter has been dedicated for over 20 years to his legal practice, which helps cyclists injured in motor vehicle crashes. He has formed a network of vetted bicycle lawyers in every state, and together they have won millions in compensation for their clients.
"My concern is always for the safety of everyone involved," he says. "My number one tip for motorists sharing the road with cyclists? See the other person. Don't see the 'cyclist' or the bike, see the human being operating it, and do whatever you can to help keep that person safe." Waechter believes bike sharing can succeed here in Michigan, but only if it is accompanied by awareness and education to keep the roads safe for everybody.
################
Attorneys Jason Waechter and Sean Murphy are Michigan attorneys specializing in the area of bicycle accident and personal injury litigation. Waechter's firm has collected millions of dollars in settlements, awards and verdicts for his clients over the past 20 years. As well as contributing significantly to safety education and accident prevention. For more information visit their website at http://www.bicycleaccidentlawyersusa.com.