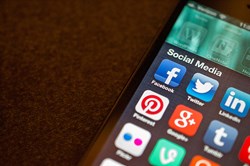 Scottsdale, AZ (PRWEB) August 20, 2013
As reported in the 2013 Social CEO Report, 68 percent of Fortune 500 CEOs have no presence on major social networks like Twitter, Facebook and Twitter.
Specifically, the CEO.com survey reports that only 25 percent of them are on LinkedIn; 7 percent have personal Facebook pages; and 5.6 percent are on Twitter.
Given the growing role of social media in business success, these are eye-opening stats for many Fortune 500 companies.
However, it presents the perfect opportunity for companies to compete with their market rivals through an active social media strategy.
"Businesses committed to their social media outreach are almost always rewarded for their efforts," said Bob La Loggia, CEO of Appointment-Plus enterprise scheduling software. "It can give businesses a significant advantage over their competitors."
Here are four reasons why social media gives businesses an edge:
1. It builds loyalty.
Customers follow brands on social media because they enjoy the product or service. Providing an engaging place where they can learn company news, converse with other fans, and take advantage of exclusive discounts turns them into repeat customers.
Additionally, fans and followers are likely to recommend the pages to their friends and colleagues. This results in more future sales.
2. It gives the company a 'face'.
Company web sites are often static and impersonal. A well-managed social media page can be inviting to both current customers and new visitors alike. It creates a personality for a business, a trait that can help grow its customer base over time.
3. It creates a more even playing field.
Most businesses do not have the large advertising and marketing budgets that Fortune 500 companies do. Social media lets them compete head-to-head with their larger rivals online.
Plus, they're able to reach a much broader audience that television and print advertising can.
4. It integrates with enterprise software for instant sales.
Customers are more likely to make a purchase if they can do so right from the social media page. This convenience makes them less likely to hold off on their purchase and possibly buy from the competition.
Placing a "Book Now" button from Appointment-Plus enterprise appointment scheduling software next to your advertised specials will result in more instant sales.
Learn how Appointment-Plus enterprise software can boost your social media sales. Call 888-772-6746.
#
About: Appointment-Plus is a Scottsdale, Ariz.-based SaaS company named one of the Phoenix metro area's top software firms by the Phoenix Business Journal. They provide over 16 million people access to their online business management software, which specializes in appointment scheduling for customers, staff and resources.
For media and online journalists: Interested in interviewing our executives regarding future business-to-business online software technology or quotes for guest articles? Please email us at erichard(at)appointment-plus(dot)com.