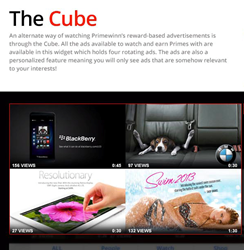 Primewinn.com is a rewards-based website biosphere.
Los Angeles, CA (PRWEB) August 20, 2013
An exciting new website, Primewinn.com, is on board to pioneer the way for advertisers and consumers to benefit from this ingenious online movement. It is providing advertisers an exact science to the age-old form of communication for marketing products. The website rewards users for shopping and watching advertisements which means any sort of time that is spent on the website by a user is essentially incentivized.
Primewinn.com is poised to become a one-stop shop for every type of Internet user--- bloggers, vloggers, shoppers, gamers and more. Primewinn has the potential shopping range of Amazon, the networking advancements of Facebook, and the reward-based gratification of an airline's frequent flyer miles. Regarding ads, users have a choice of when and what they want to watch. Primewinn founders say that the opt-in and targeted approach to advertisements creates a more harmonious relationship between buyers and sellers, which in turn lets advertisers empower the consumer. Real time analytics are apart of the website's platform. They are sent to advertisers on a media buy basis, giving the owner, CEO, CFO, CMO and other officials total control. In the Internet world, these types of models have the potential to create a paradigm shift in online content monetization by increasing ROI and transactions for brands and completes the advertising to consumer circle that has been missing thus far.
"Cyber culture is our ultimate inspiration for creating a rewards-based website biosphere like Primewinn.com," says Jasleen Singh, Primewinn Co-Founder, "Advertisers need to step up their game. It's not just 'here's this product, now buy it!' anymore. The current society is online and uses computer networks for communication, entertainment and business. We gift wrap this science and put a bow on it. There's no guess work for advertisers, it's all there."
More information is expected to be released as further website developments are revealed.
About Primewinn.com
Primewinn is a premiere shopping destination with the hottest brands and products that incentivizes users to watch promotional videos and shop. The creators of the website, http://www.primewinn.com, have built amazing retail partnerships with merchants and advertisers that want to sell their products and reach their fabulous customer base. A passionate and creative team has invested their time and passion in to making Primewinn what it is today and continue to contribute to the potential of what it can become. Visit today to be entertained and enjoy every click of the way.
Contact
Media Contact: Amy Avetikian
socialmedia(at)primewinn(dot)com
Sales Contact: Danial Ian
daniel.ian(at)primewinn(dot)com