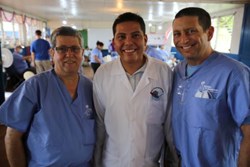 This was by far the most rewarding trip of my life, said volunteer dentist Dr. Kevin Lee, DDS, from the Centreville, Ohio office of Bright Now! Dental
Irvine, Calif. (PRWEB) August 20, 2013
In countries like Nicaragua, where access to dental care is extremely limited and considered a luxury by most, the lack of access to oral health services results in significant pain and suffering, unnecessary tooth loss, dietary limitations and even life threatening conditions. The Smiles for Everyone Foundation ("SFE Foundation"), a non-profit public charity affiliated with Smile Brands Inc. ("Smile Brands"), is proud to be a part of the effort to help rectify those problems. Recently, a team of SFE Foundation volunteers returned from a nine-day international philanthropic dental outreach trip to bring much needed dental care, knowledge and supplies to the people of Nicaragua. The team saw 621 patients during the trip and performed 2,026 procedures valued at more than $567,000, and also provided guidance on improving long-term oral health.
SFE Foundation also sponsored a trip to Ghana in November 2012, following two previous International Smile Project trips coordinated by Smile Brands - one to Paraguay in December 2011 and another to Thailand in May 2012. The services provided in these previous trips are valued at $1.7 million.
The Nicaragua team – made up of 17 volunteers, including Smile Brands employees and dentists from Smile Brands' affiliated Bright Now!® Dental and Monarch Dental® offices – provided dental services to children and adults in both Managua, Nicaragua's capital, and in the more remote Matagalpa and La Dalia regions.
"This was by far the most rewarding trip of my life," said volunteer dentist Dr. Kevin Lee, DDS, from the Centreville, Ohio office of Bright Now! Dental. "I knew from hearing about past International Smile Projects that we would be seeing a lot of underserved people, but when adult men and women said they had never been to a dentist, much less taken their children to one, it really put our work into perspective. It was so rewarding to be able to treat so many children and families, and to see the smiles on their faces after receiving treatment."
Among the 17 volunteers on this trip were SFE Foundation Chairman & CEO Steven C. Bilt; dentists Dr. Benjamin Dorantes, Dr. Henry Green, Jr., Dr. Sandra Horner, Dr. Kevin Lee, Dr. Griselda Orellana and Dr. Shorouq Sahawneh; Smile Brands CFO David Young; and Directors of Market Operations April Cole and Ivania Navas. SFE Foundation Support Manager Heather Kent also participated in this important dental outreach event, which was coordinated by Norm Schulz of the NEUE Group. Additionally, the volunteers included the executive development support of Jim McPartland, author of the book Unopened Gifts, and Marc Cohen and Gary Meeker of Video Resources.
Another SFE Foundation volunteer, Dr. Griselda Orellana, DDS, from the South Gate, Calif. office of Bright Now! Dental, noted, "I was so proud to work alongside the team from Acción Médica Cristiana, which has been a leading organization in Nicaragua for 28 years helping people with community health issues. Their passion and commitment is truly amazing and inspiring."
In addition to running temporary dental clinics, volunteers worked to create a sustainable service model that will allow for the local teams with which SFE Foundation partners to continue the care that was started during this trip. The team left behind dental equipment and exposed local dentists to advanced training to ensure they can continue to provide superior care to their communities now that the volunteers have returned home.
The film crew joined the SFE Foundation team to capture video and still images documenting the experience, which will be used to develop educational materials for future trips. A pre-trip video of Steve Bilt talking about his expectations and goals for the trip also is available. (MEDIA NOTE: Some still photos from Nicaragua are available now, and video footage from the trip will be available shortly, as well.)
Details from Nicaragua trip – and past international dental outreach trips – can be found on the SFE Foundation's website, http://www.smilesforeveryone.org, and on its Facebook page at http://www.facebook.com/smilesforeveryonefoundation.
About Smile Brands Inc.
Smile Brands Inc. is one of the largest providers of support services to dental groups in the United States based on the number of dental offices. Smile Brands Inc. provides comprehensive business support services so dentists can spend more time caring for their patients and less time on the administrative, marketing and financial aspects of operating a dental practice. Smile Brands Inc. services support more than 1,300 dentists and hygienists practicing in 370 Bright Now!® Dental, Monarch Dental®, and Castle Dental® offices in 18 states.
Nearly three quarters of a million people a year take advantage of extended evening and weekend office hours, convenient locations, affordable prices, and flexible payment plans for quality, full-service dental care including general and cosmetic dentistry, and specialty services such as orthodontics at affiliated Smile Brands' offices.
Based in Irvine, Calif., Smile Brands Inc. and its affiliated dental offices combined employ approximately 4,600 people nationwide. For more information, visit http://www.smilebrands.com.
###