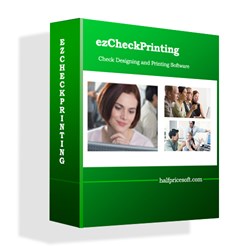 Customers' satisfaction is the top priority of ezCheckPrinting support team. Halfpricesoft.com has given QuickBooks customers peace of mind and added security when printing on blank check stock.
Dallas, TX (PRWEB) August 23, 2013
EzCheckPrinting software from Halfpricesoft.com has enhanced features to give QuickBooks customers a greater sense of security when printing with blank check stock. QuickBooks customers can now print on blank check stock as the checks are needed, rather than having checks with routing numbers and account numbers laying around in the office. This alternative for QuickBooks users is also a less expensive alternative to printing checks.
"Customers' satisfaction is the top priority of ezCheckPrinting support team. Halfpricesoft.com has given QuickBooks customers peace of mind and added security when printing on blank check stock." Dr. Ge, the founder of halfpricesoft.com said.
EzCheckPrinting business check writer enables thousands of QuickBooks customers to print professional checks with MICR encoding line, logo and signature on blank stock in house easily. Designed with simplicity in mind, a majority of businesses can download and run this check writer application without an extensive learning curve. However, some customers may need assistance because of special system settings or permission issues. This no cost remote access support means the technical professional can see and fix the issue on a customer's machine when a rare issue cannot be fixed by phone, live chat or email.
Writing a check is really easy with ezCheckPrinting! All customers have to do is to enter the date, payee's name and amount payable to the payee. This check writer will automatically convert numbers to words. Clients can write and print a check with just a few clicks. Furthermore, there are never monthly fees, and no internet connection is required to operate and print checks.
Potential customers can download the free trial version at http://www.halfpricesoft.com/check_printing_software_download.asp.
with no cost and no obligation. The main features of this MICR & laser check writing and printing software include:

Never a cost for customer support in our products including email, live chat and team view options
Add a company logo and other customizable design features for a professional, corporate look to company checks
Easy to use and learn, even for people who don't have an accounting or IT background
No limit to the number of accounts that can be used
Write an unlimited number of checks
No internet connection needed
Stand alone software
Add a second signature line for peace of mind and security
Prints MICR characters accepted by most banks (for use with laser printers) — no need to order expensive checks pre-printed with bank information
Use blank check stock or pre-printed checks in check-on-top, check-in-middle, or check-on-bottom formats
Include signature image on checks to save time signing checks
Customizable report features that are easy to use
Save time by printing multiple checks with one click
Export and import of check data for use with ezTimeSheet, Excel file, QuickBooks, Microsoft Money, and other accounting software.
Starting at just $39 per installation (Free through TrialPay offer), ezCheckPrinting is affordable for any size business and is compatible with all popular brands of laser printers (most of which can print bank-accepted MICR numbers) and specialized MICR printers.
To learn more about ezCheckPrinting check writing software and the win-win deals, user can visit http://www.halfpricesoft.com/product_ezCheck.asp
About Halfpricesoft.com
Founded in 2003, Halfpricesoft.com has established itself as a leader in meeting and exceeding the software needs of small businesses in US. The software's graphical interface guides customers step-by-step through setting up employee information, setting up tax options, calculating payroll - including calculation of federal, state and local taxes; deductions for Medicare, insurance and 401(k) plans; and printing paychecks & tax forms.