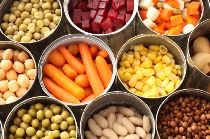 The ultimate low-calorie marinade and dressing is Balsamic Vinegar. Once you start experimenting with this staple, you'll find yourself using it all the time.
Canoga Park, CA (PRWEB) August 22, 2013
According to the medical experts at 101 Medical Weight Loss, Americans are increasingly reliant on fast food and takeout. Replacing those meals with home-cooked fare from a well-stocked kitchen can help aid weight loss. Having the right essentials can make it easier and faster to create delicious meals at home.
Here is a list of must-have ingredients to always have on hand:
1. Canned Beans: The easiest way to start a home-cooked meal. Open a can and get protein, healthy carbs, and fiber all at once. Stock a variety of beans to keep it interesting; try black beans, chickpeas, cannellini beans, and lentils, for starters.
2. Balsamic Vinegar: The ultimate low-calorie marinade and dressing. Drizzle vinegar over warm veggies like beets; reduce and use as a sauce for lamb or chicken; or use it to top any salad. The punch of flavor balsamic vinegar will transform a dish from ordinary to exotic.
3. Whole-Wheat Flour Tortillas: An easy source of complex carbohydrates that can be used countless ways. Try adding some meat, chicken, or beans along with some veggies, and roll them up for a quick and tasty burrito. Add a slice of turkey breast lunchmeat or some tuna, and top with chopped tomatoes for a filling and healthy no-cook dinner. Go for the fajita-sized ones, and limiting portion size and calories will be a no-brainer.
4. Egg Substitute: The basis for the fastest and easiest cooked meal around. The key is getting creative. Buy pre-made tabbouli and mix it in, or add a package of madras lentils. Throw in sundried tomatoes and a couple sliced olives for a Mediterranean taste. You can even chop up egg substitute and add it to some rice and veggies with a dash of soy sauce for a quick Chinese stir-fry. The possibilities are virtually endless; prep time is nil.
5. Whole-Wheat Couscous: When you're craving something hearty but have no time, this grain cooks in less than five minutes. Toss couscous with veggies, mix it with pasta sauce, use it to bulk up an omelet, or even add a spoonful of preserves and eat it for breakfast. The whole-wheat version is even more nutritious and filling.
6. Frozen Veggies: Always there…and they never spoil! Stock your freezer with a variety of frozen veggies, and you'll find yourself reaching for them every night because they're so easy to make. Start your meal with edamame, stir a California blend into some pasta, or add mixed vegetables to a (nonstick spray) stir-fry.
7. Feta Cheese: You may think cheese is off-limits on a medical weight loss plan. But feta gets a nod as a must-have staple because of its two unique benefits: It's lower in calories and fat than most cheeses, and its rich flavor means you only need a little. So think of it as a condiment, not a food. Just a tablespoon or two is all you need to top salads, chili, omelets, or burritos.
For more information please call (818)312-9595 or visit http://101medicalweightloss.com/
About 101 Medical Weight Loss:
For more than a decade, The Center for Medical Weight Loss has been helping people to shed unwanted pounds through physician-guided programs. The company is known throughout the San Fernando Valley area for uniquely meeting the needs of patients through personalized plans. 101 Medical Weight Loss operates on the belief that safe weight loss results from healthy food and lifestyle choices, but provides the option of a safe appetite suppressant prescription when necessary. To discover what The Center for Medical Weight Loss can do for you, visit 101 Medical Weight Loss.com