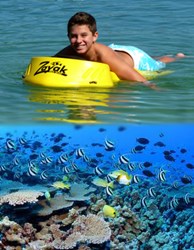 'This may be the single greatest revenue generator to hit the snorkel excursion market,' said Tom Mulvihill, President of Tropical Paradise Plastics in Sarasota.
Sarasota, Florida (PRWEB) August 28, 2013
The Zayak® Sea Sled is a safer, more comfortable method of snorkeling that eliminates leaky masks and snorkel tubes, allowing for more time, and more people, to enjoy the underwater sights. While only 3% of today's population enjoys snorkeling, we fully expect that the Zayak Sea Sled may be responsible for as much as a 33% increase to nearly 4% of the population.
All ambient light and reflections are eliminated by a ventilated neoprene 'Dry Mask'. This allows for greater visibility of the 'Features and Creatures' below through the wide angle Panoramic Window than would normally be possible with other 'glass-bottom' boats or kayaks.
The user floats slightly above the water on a High Visibility Yellow platform that can be seen more easily by nearby boaters and jet skiers, avoiding potential conflict or contact.
Proficient snorkelers find that they can use the Zayak® Sea Sled as a 'base of operation' from which they can dive deep for spearfishing, lobstering, scalloping or 'treasure hunting'.
While excellent for initiating new snorkelers into the joys of underwater exploration, the Zayak® Sea Sled is universally accepted by all ages of men, women and children.
This opens the 'snorkel rental market' to many more people who would like to snorkel but have some reservations about floating semi-submerged in deep water while drawing breath through a tube and periodically having to clear their mask. The Zayak® Sea Sled resolves all these issues and appeals to a universal market.
Model A1-XL has a Cargo Net within the 'Viewing Chamber' for securing your underwater camera, sun screen or water bottle, allowing for greater time, and fun, on the water.
There are provisions for hanging a three meter baited line below the Panoramic Window so you can view, and photograph, the local fish as they come to nibble the bait.
Come see us at SURF EXPO (Sept) and DEMA (Nov) this fall in Orlando.
The Zayak® Sea Sled….We Sell Fun.
Contact Tom Mulvihill at info(at)ZayakSeaSled(dot)com or at 941-929-9093.