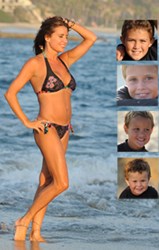 Dr. Cruise is a true artist and gave me back the body that I once had (even better!) after having four children.
Newport Beach, CA. (PRWEB) August 20, 2013
Orange County tummy tuck patients seek out surgical options to correct any of the following issues following massive weight loss or child birth: loose skin, excess fat, stretch marks, and/or abdominal "pooch" below the navel. Most patients who have done their research frequently find a major flaw with the results they see following a tummy tuck. They notice how a patient's belly button no longer looks natural and the incision is visible around the outside.
"The most tell tale sign of a tummy tuck is the incision around the belly button. For this reason, I have spent a great deal of time figuring out a way to make the new belly button appear very natural," mentioned Dr. Cruise.
For more information, please visit: http://orangecountycosmeticsurgery.com/abdominoplasty/dr-cruises-philosophy/ .
For most patients it is important to be able to wear any type of clothing they want, especially a bathing suit, without being concerned someone will see their belly button and notice they had something done. For this reason, Dr. Joseph T. Cruise has improved this issue with his newly perfected technique. The belly button is created in a way that is small and recessed. This is done by creating a flap inferiorly to hide the incision. In addition, the incision is sutured inward to create an "inny." This also hides the incision inside ensuring it isn't visible to others. The combination of these two techniques provides Orange County tummy tuck patients with an attractive new belly button, which looks completely natural.
About Cruise Plastic Surgery:
Cruise Plastic Surgery, located in Newport Beach, Orange County, California, is one of the top plastic surgery practices in the Southern California region. The director, Dr. Joseph T. Cruise, is a fully trained, board-certified plastic surgeon specializing in facelift, breast augmentation, tummy tuck and other cosmetic surgery procedures. Dr. Cruise is also one of the region's best known surgeons for rhinoplasty (nose surgery), neck lift surgery and gynecomastia. His dedication and focus is clearly evident in the comprehensive educationally based web site he manages and the concierge-like customer service his patients receive from the entire office. Experience and predictably good results have earned him the distinction of being one of the best plastic surgeons in Orange County.