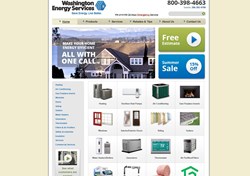 "This new website is a perfect representation of our motto, "all with one call", and demonstrates the level of comprehensive service and information we bring to our customers."
- G. Marks, Washington Energy Services Mktg
Seattle, Washington (PRWEB) August 29, 2013
Consumers looking online for home energy products such as heating systems, water heaters and windows typically have found themselves without complete information, or visiting 4-5 sites to get it. They get the product information on one site, the installer information on another site and go to a third site for frequently asked questions, like "what is a heat pump anyway".
For example, furnace manufacturer sites have only one brand and a lot of technical information. They don't discuss installation or which type or size of furnace is right for what kind of home. They refer to a dealer/contractor. Local contractor sites are usually focused on their qualifications, their locations and install specials. Now there's something new, a contractor website that focuses on what consumers are researching for, all in one place, combing the best of blog, manufacturer website and contractor website features.
With the new site, Washington Energy is launching a platform that will be the number one resource in Western Washington for energy efficient home improvement. Consumers can find individual products, frequently asked questions that pertain to both the product and installation and articles and tips for energy efficient living, all in one place. The site is easy to use, organized visually and helps you shop for the right heating, windows, siding, water heaters or many other product categories. Some of the features include an easy online form for requesting service or a free estimate.
Gretchen Marks, VP Marketing at Washington Energy Services says, "This new website is a perfect representation of our motto, "all with one call", and demonstrates the level of comprehensive service and information we bring to our customers."
While the product information may get technical, the insights and questions are in layman's terms, written from the point of view of the average homeowner's knowledge base and interest. Questions are largely drawn from real life customer inquiries.
After talking with consumers about the information they were researching online in advance of a purchase, Washington Energy took the plunge on new site development in late 2012 with Alliance Web Marketing of Salt Lake City, UT. The launch of the new site was on Wednesday, August 14th, 2013.
Washington Energy Services takes contractor websites to the next level with the new and improved http://www.washingtonenergy.com/. Washington Energy Services has been providing energy efficient home improvement products and services to Western Washington homeowners since 1957. For more information contact them at 800-398-4663.