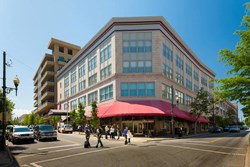 Asheville, NC (PRWEB) August 22, 2013
Guests will find their stay even more enjoyable when they step into one of Haywood Park's spacious suites and experience the ultimate in Southern hospitality. The elegant suites, ranging from 475 to 1,200 square feet, now include iHome® docking stations, wireless high-speed Internet, gratis guest robes and slippers, and nightly turndown service with locally made signature Haywood Park Hotel chocolate truffles.
The downtown Asheville hotel also features a four-story vaulted glass atrium, with Spanish marble and polished brass accents, providing travelers a comfortable place to relax, grab a meal, or finish up the day's work.
Dining options at the Haywood Park Hotel include a café and recently opened Isa's Bistro. The Haywood Park Café in the adjacent downstairs atrium offers a variety of baked goods courtesy of the local West Asheville Bakery, as well as locally made hummus, and an assortment of soups, salads and paninis. The café also features free high-speed wireless Internet and spacious patio-styled seating. Isa's Bistro is best described as fresh, local, and seasonal. Chef Duane Fernandes describes his menu as "ingredient-driven new American with a Mediterranean influence." The menus at Isa's Bistro are updated daily.
Located in the heart of downtown Asheville, the Haywood Park Hotel provides pet-friendly accommodations and easy access to restaurants, shopping, music venues, and all Asheville has to offer. After a day exploring Asheville, guests returning to the hotel can keep their exercise routines with a trip to the fitness room. With its central Asheville location and updated amenities, the Haywood Park Hotel is a great choice for vacationers and business travelers alike.
About Haywood Park: From its earliest days in the 1920s to the 70s as a high-end department store, this foundational downtown hotel in Asheville, NC opened its doors in 1985 and has remained central to Asheville's vibrant social and cultural scene. For more information about the Haywood Park Hotel, please visit http://www.haywoodpark.com