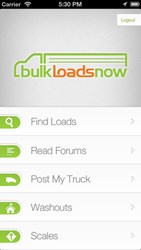 The real issue is carriers, brokers and shippers have been confused on all the new laws and regulations and what impact the new laws will make
Nixa, MO (PRWEB) August 21, 2013
Since MAP-21 (Moving Ahead for Progress In the 21st Century) was signed into law a little more than a year ago there have been a lot of questions coming from the bulk transportation industry, especially as it relates to brokering freight. Recently, the topic popped up on a forum at BulkLoadsNow.com, a leading online bulk freight matching and resource website, after Transport Topics posted a related article titled "Illegal Brokering." The article not only sparked online discussions amongst BulkLoadsNow.com carriers members but shipper members as well.
Jared Flinn, Operating Partner at BulkLoadsNow.com said, "The real issue is carriers, brokers and shippers have been confused on all the new laws and regulations and what impact the new laws will make. And there's a lot of misinformation out there. We hear the frustration from our members."
Part of MAP-21 discussing deals between brokers and carriers is causing the most confusion and is the primary topic of debate. This particular section of the new law has carriers asking if they will need to possess a brokers bond if that carrier takes loads from a broker and gives the loads to other carriers, which is done often.
In Transport Topics' article, "Illegal Brokering," they state, "…it is illegal for a motor carrier working with your company to take possession of your freight for "brokering" purposes." This sparked a lot of debate, leading Reliant Transportation to post its own article to clarifying the law. BulkLoadsNow.com members posted both articles to a forum.
"We've seen some members debate and argue the new law, but mostly we see our members trying to help each other understand it. We have a good community of shippers, brokers and carriers working together," said Operating Partner Matt Fredin. "We welcome anyone in this industry to join our community discussions."
Be a part of the discussion at BulkLoadsNow.com http://bit.ly/197Q66G. Read the full law summary at the DOT website http://www.fhwa.dot.gov/map21/summaryinfo.cfm. Read Reliant Transportation's response to the Transport Topics' article here: http://reliant-transportation.com/2013/07/30/map-21reliantresponds/. Transport Topics' original article: http://www.ttnews.com/articles/basetemplate.aspx?storyid=32564&page=2 .
About BulkLoadsNow.com
BulkLoadsNow.com is an online community of professionals in North American's bulk freight industry. Our shipper members are transportation logistics managers of grain, fertilizer, aggregates, feed ingredients and all agriculture commodities. Our carrier members pull hopper bottoms, walking floors, end dump trailers, belt trailers, live floors, pneumatic and liquid tankers. We provide to our members the industry's most innovative bulk freight solutions including an enhanced load board, database of all carriers in North America, instant communication tools, industry forums and news updates, and much more.