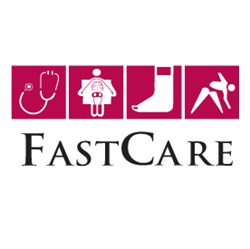 Miami, FL (PRWEB) August 27, 2013
No one exactly schedules accidents, but they do inevitably happen. Whether it takes place in the work place, in a public place, or in the home, an accident that causes an injury can happen at any time. When someone gets injured in an accident, most people have a natural tendency to go straight to the Emergency Room. But anyone who has been to the Emergency Room after an accident has occurred knows that there can be lengthy waiting times and high copay charges from insurance companies. Furthermore, if the injury is not too serious, their waiting time is likely to be even longer, because the Emergency Room staff could be dealing with life threatening cases that must be prioritized over less serious cases. But for south Florida residents, there is an alternative, more convenient, and cheaper option. By going to a Miami urgent care center, especially one of FastCare's centers, a patient could save time and money. At FastCare, the copay fees are usually lower than they are for an Emergency Room visit and the waiting times are often shorter. This is because there are no life threatening cases to deal with and because non-urgent appointments can be booked ahead of time.
FastCare, a leading provider of emergency medical clinics in south Florida announces a new way to make an appointment and save time. FastCare's new online appointment forms can save patients' waiting time by enabling them to book a slot in advance. Using a simple online form, potential patients can select an appointment time that is convenient for them. All that's required is some basic information, choosing a location, the type of care the patient requires, and selecting a convenient time. This can ensure they do not waste too much time in the waiting room. The only appointment scheduling not only saves these particular patients time, but it also means that FastCare staff can appropriately schedule appointments to ensure other patients are not inconvenienced. Thus, the waiting room is kept as clear as possible for those people who have urgent cases that cannot be pre-scheduled. This way, everyone wins! People searching for doctors in Aventura often find recommendations on FastCare because of the company's popularity and excellent reputation as one of the best urgent care providers in south Florida. Individuals who had experienced the walk in clinic service in Miami before, have discovered that FastCare have fully qualified physicians available throughout opening hours at both locations.
About FastCare: As a network of urgent care in Miami FL, they treat all non-life threatening illnesses and injuries, accept most private insurances and are contracted with all Workers' Compensation Insurance companies. Due to their direct contracting with most insurance companies, a visit to FastCare will be at lower coat in the form of lower copays and lower charges vs. the emergency room. FastCare's main priority is to provide quality medical care in a timely manner for their patients. For more information, call 786-923-4000 or visit myfastcare.com.