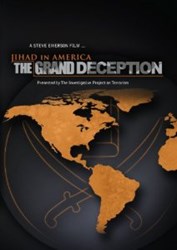 had there been no 9/11 attacks on the USA , The actions of these groups would have gone unnoticed and they would have been successfull in overthrowing the strongest democracy on The Planet and making it islamist union
Orlando, FL (PRWEB) August 21, 2013
With the Key Note speaker for the 8th annual Homeland Security Conference, Steve Emerson, of the Investigative Project on Terrorism offering to give away his 70 minute documentary on the Muslim Brotherhood and participants will be able to view the tactics and advances made in their Radical agenda in the USA.
Founder and executive director Steven Emerson is an internationally recognized expert on terrorism and national security and author. Consulted by the White House, National Security Council, FBI, Justice Department, Congress and intelligence agencies, Mr. Emerson is in great demand as one of the most astute, insightful and knowledgeable experts in the world today on the threat and prospects of militant Islamic terrorism. He has been quoted in more than 500 news articles and has appeared frequently on network television. His 2002 best-selling book, American Jihad: The Terrorists Living Among Us, provides the first context and understanding for how one of the most notorious terrorist groups in the world could have plotted the worst terrorist attack on American soil without detection or scrutiny by American authorities.
Emerson heads up a list of 10 distinguished speakers will provide detailed information to First Responders from across the country in everything to do with this year's subject: International Terrorism. The conference takes place at the Florida Hotel and Conference Center on November 5-7th 2013 and is considered the main event in the year's Homeland Security calendar.
Here is what people say about Steve Emerson:
"The Investigative Project on Terrorism is critical to our nation's security. There is no other non-governmental group that has better intelligence or data on the threat to the United States and our allies. Making do with a bare bones budget, the IPT is a national treasure whose influence and achievements are unparalleled."
U.S. Representative Pete Hoekstra, Ranking Member of the House Permanent Select Committee on Intelligence
"[The Investigative Project] was a decade ahead of its time in focusing on the terrorist threat to the United States and to our homeland from Islamic extremism..."
U.S. Representative Brad Sherman, D-CA
"The Investigative Project is the only one out there who is really doing substantial research into what is going on in the world and here in America. They are actually researching, they are recording, they are verifying how this [radical jihadist] movement is taking place ... I don't know of anyone else who is doing the same thing."
U.S. Representative Sue Myrick, R-NC, Chairman of the Congressional Anti-Terrorism/Jihad Caucus
"When FBI said there were no Web sites in the U.S. that were recruiting jihadists for training in Afghanistan or soliciting money for terrorist front groups, I asked Steve Emerson to check. Emerson had written the book American Jihad, which had told me more than the FBI ever had about radical Islamic groups in the U.S. Within days, Emerson had a long list of Web sites sitting on servers in the United States. I passed the list to Justice and the FBI..."
Richard A. Clarke, Chief Counter-Terrorism Advisor for the National Security Council, Author of Against All Enemies: Inside America's War on Terror.
For registrations:
http://www.thecounterterroristmag.com/conference/order.php
or call 786-573-3999 extension 111 and ask to speak to Leo Rubio.