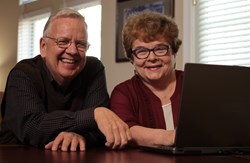 MyPCShool.com can help enrich the lives of the Boomer and Senior population.
- Barbara
Worthington, Caregiver Cards
Plano, TX (PRWEB) August 21, 2013
Members, residents, staff and volunteers of Senior Centers, Retirement Communities and Retirement Homes are being invited to learn new computer skills or improve upon existing ones by MyPCSchool.com.
"Our generation did not grow up with modern technology," said Mimi Witcher, Co-Founder of MyPCSchool.com. "We have a grandson who is more tech savvy at age six then we were in our 50's. But our generation needs to become more computer literate. It's not a matter of something to do to occupy our time any more; it's a matter of necessity in our technology driven world."
MyPCSchool.com is a virtual campus that offers a SEE-READ-DO Learning System that was specifically designed for Boomers and Seniors.
SEE. First the online students watch a short video that provides them with an overview of their selected Lesson Plan.
READ. Next they print the Lesson Plan so they can refer to it as they DO the Lesson Plan on their computer.
DO. Armed with a visual image of what they will be doing and a printed copy to refer to, students proceed to DO the Lesson Plan.
Mimi Witcher successfully used this learning system to teach her students in the Emeritus Program at Richland College in Dallas, TX. Mimi went from being intimidated by computers to taking classes...to teaching classes...to Teacher of the Year.
Barbara Worthington, of Caregiver Cards (http://caregivercards.biz/) believes that MyPCSchool.com can help enrich the lives of the Boomer and Senior population. "There have been a number of studies," said Barbara, "suggesting that online and computer learning are helping ward off memory loss or decline. Another reason why this type of service appeals to me, is the benefit it has for homebound caregivers. As a caregiver to my grandmother, getting out is difficult so being able to improve my computer skills 24/7 from the comfort of my home is a real blessing."
Right now, MyPCSchool.com is offering a special discounted tuition program available exclusively for Senior Centers, Retirement Homes and Retirement Communities that makes it possible for members, residents, staff and volunteers to become computer savvy for only pennies a day.
Interested parties are encouraged to watch an overview video at http://www.youtube.com/watch?v=tlTTMF4EBig then email Bill Witcher at bill(at)mypcschool(dot)com
MyPCSchool.com is a large online virtual campus with a vision to create "Limitless Learning" – so that no matter your age or prior experience, their online learning system will provide students with the confidence and skill to use their computer to learn, to create and to connect with the world around them.