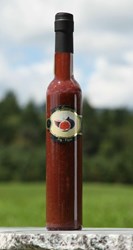 Somerville, Massachusetts (PRWEB) August 21, 2013
An age-old fruit, the luxury of a luscious, ripe fig has been revered for centuries as a rare delicacy. Available during the early and late summer months, the sweet, honeyed taste of a fresh fig is now accessible year-round with Mangé's new Fig Vinegar.
"I have a love-hate relationship with figs. They're one of my favorite ingredients to cook with, but they're only in season for a short time," explains Chris Spivak, owner of Mangé. "That's why I wanted to create a Fig Vinegar, to extend the fruit's short shelf life and give people the chance to enjoy its flavor all year long."
With a full line of fresh fruit vinegars, Mangé is putting a modern twist on a tradition that dates back to the 18th century when berries where preserved in vinegar. Unlike infused or balsamic-based fruit vinegars, Mangé's fresh fruit vinegars are made using fruit that has been picked at its peak, puréed and preserved in vinegar.
A versatile addition to the company's collection, the Fig Vinegar enhances a wide range of foods including chicken, rabbit, duck, halibut and pork and pairs perfectly with cheese and charcuterie plates.
"Figs are a culinary delicacy, but you don't need to be a professional chef to appreciate their flavor," says Spivak. "The fig's natural sweetness makes the vinegar ideal for both sweet and savory dishes. For breakfast you can drizzle the Fig Vinegar over a stack of pancakes and for a simple lunch or light dinner just added it to a salad with chopped walnuts and Brie."
Based in Massachusetts, Mangé specializes in gastronomic cuisine and is one of the first companies to offer a full line of fresh fruit vinegars, now available in 11 flavors including: Blackberry, Blood Orange, Cherry, Green Apple, Mango, Passion Fruit, Pear, Raspberry, Red Pepper, White Peach and Fig.
For a limited time, Mangé will offer free shipping when you purchase three or more bottles of Fig Vinegar in any size. A 10% discount will also be given to anyone purchasing an entire case (10 or more).
About Mangé: Founded in 2012 by executive chef Christopher Spivak, Mangé is a company committed to creative cooking. During his classical training in France, Spivak discovered fresh fruit vinegars, a product category that until now has been largely unavailable in the United States. Unlike any other vinegar, the primary ingredient in Mangé's fresh fruit vinegar is fruit that had to be picked at its peak, puréed and preserved in vinegar.
Mangé offers 11 fresh fruit vinegar flavors, which are available at gourmet, grocery and specialty food stores across the U.S. and via the company website. For more information about Mangé, please visit http://www.mange-legastronome.com. You can also Like Mangé on Facebook and Follow us on Pinterest.