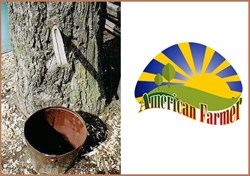 Jupiter, FL (PRWEB) August 20, 2013
American Farmer announced today they will focus on maple syrup production in an upcoming episode of American Farmer, slated to air first quarter 2014 on RFD-TV.
In this episode, American Farmer will take a behind-the-scenes look at maple syrup production. Maple syrup is among the oldest natural food products produced in North America. While modern day commercial operations differ greatly from those of our ancestors, the basic process of converting maple sap to syrup still requires the removal of water from the raw sap to form the finished product. The series will explore the different types of maples grown in the Northeast, as well as those grown throughout Canada, and will showcase the equipment required for tapping maple syrup and processing sap.
Audiences will be amazed by the process and procedures involved in making maples syrup.
"This will truly be a sweet treat for American Farmer viewers Nationwide," said Charlie Cowan, producer for American Farmer. " I'm excited to take our viewers on a journey through the past—showing them how maple syrup production has developed over the years."
About American Farmer:
American Farmer is a breakthrough program on a mission to showcase the latest advancements in agriculture and farming. From seed to harvest, livestock and more, our producers have traveled the country covering the people, places and issues impacting all areas of farm country.
American Farmer airs Tuesdays at 8:30 a.m. EST on RFD-TV as well as Saturdays at 1:30 p.m. and Midnight EST on RURAL-TV.
For more information visit: http://www.americanfarmertv.com or call (866) 496-4065.
Media Contact:
Charlie Cowan, Senior Producer / American Farmer
(866) 496-4065 x 875
charlie(at)americanfarmertv(dot)com