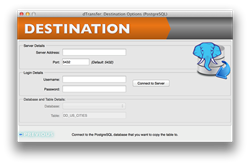 We want to help both technical and non-technical professionals be more productive by using our technology.
BINGHAMTON, NY (PRWEB) August 20, 2013
dBase, LLC today introduced dBaseAPPS, a series of single function, cross platform apps targeting non-IT professionals. dTransfer, the first app in the series, is now available on both the Apple Mac App Store and the Microsoft Windows store. Unlike most apps which are developed with code specific to either a Mac app or a Window app, dBase developed dTransfer using the same code for both versions of the app.
One of the technologies used was Devart's UniDAC database components.
"Connecting to a wide variety of databases on both the Mac and Windows platform is a key feature of UniDAC, which is our universal connectivity solution," said Boris Matkov, project manager at Devart. "We applaud dBase and the technologies involved for showing the developer community a more streamlined approach to developing quality apps faster and more efficiently."
dTransfer enables users to simply and quickly copy data tables between databases via an intuitive user interface that eliminates concerns of technical complications. By treating database tables like files in a folder, dTransfer easily copies even the most important tables between PostgreSQL, MySQL and SQLite databases.
"We want to help both technical and non-technical professionals be more productive by using our technology, and we apply that way of thinking internally in everything we do," said Michael Rozlog, CEO of dBase, LLC. "Instead of building two versions of the same app using two code bases, it seemed more productive to develop one version of the app using one code base that can exist in both the Mac and the Windows world – and we did it using a combination of technologies, including DevArt's UniDAC, which were key to making this possible."
dTransfer is now available on the Mac App Store and the Windows Store for $9.99 For more information or to search for additional dBase apps as they become available, visit http://www.dbaseapps.com.
About dBase, LLC
dBase LLC helps business users and software developers access, manage and leverage the data they need faster and easier to be more productive. The company's business intelligence and data management tools transform raw data into useful information, enabling organizations from small businesses to large enterprises to make more informed business-critical decisions. The company's flagship product, dBASE, was the world's first widely used relational database management system and is still used by millions of software developers and business users worldwide. For more information about dBase LLC and its products, visit http://www.dbase.com.