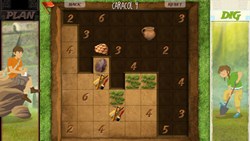 We wanted to give players—specifically those in middle school—an entertaining, yet challenging puzzle game that can be easily played anytime, anywhere.
Bethesda, MD (PRWEB) August 20, 2013
Dig-It! Games, an independent developer of educational, interactive games founded by a former archaeologist and middle school teacher, has launched Can U Dig It!, its latest free game app for the iPhone, iPad, and iPod Touch that turns kids into archaeologists as they dig for ancient artifacts using logic and a little luck. The puzzle app virtually transports players 11 and older to excavation sites in Central America to carefully collect more than 40 historically accurate artifacts.
The game contains 53 dig sites located in the Maya cities of Tikal and Caracol. Each site is a puzzle made up of squares that randomly contain rare Mayan artifacts, such as ancient tools, weapons, and jewelry. Numbers ranging from one to 10 are scattered across the grid, indicating the number of adjacent squares that can be safely excavated without damaging an object. Kids will tap into their inner treasure seekers and use logical deduction to reveal all of the empty squares, meaning they successfully located all artifacts.
"We wanted to give players—specifically those in middle school—an entertaining, yet challenging puzzle game that can be easily played anytime, anywhere," said Suzi Wilczynski, president and founder of Dig-It! Games. "Featuring a unique artifact collection accessible throughout the game, Can U Dig It! teaches players about the ancient Maya culture while enthralling them in fun, thought-provoking puzzles."
The single-player game encourages friendly competition both independently but also amongst players around the world via the Apple Game Center leader board embedded into Can U Dig It!. Featuring two play mode options, 'Plan' and 'Dig,' users can either strategically calculate moves or dig on the go while avoiding excavation tools and puzzle obstacles in the stunning, high-resolution site environments developed in part with FableVision Studios.
"We are very excited to have a part in the creation of Can U Dig It! following a successful partnership in developing the award-winning Mayan Mysteries," said Gary Goldberger, president and co-founder of FableVision Studios. "We deeply appreciate Dig-It! Games' commitment to designing interactive learning games that are geared toward the important middle school demographic, and this new app provides the type of fun, stimulating gameplaying experience these kids desire today."
Following up on the story and adventure of Mayan Mysteries, in which Team Q members Charlie and Fiona track down an artifact-stealing thief, Can U Dig It! opens with a cinematic scene in a plane somewhere over Central America. With excavation tools at their side and critical thinking challenges in store, the experience makes for a highly interactive and engaging game, easy to pick up and dig right into adventure.
Can U Dig It! is available now for the iPad, iPhone, and iPod Touch via the iTunes App Store.
About Dig-It! Games©
Dig-It! Games is an independent game developer dedicated to encouraging kids to explore the world around them. At Dig-It! Games, we know that fun and learning can, and should, go hand in hand.
To learn more about Dig-It! Games, please visit http://dig-itgames.com/. For media inquiries, please contact Eric Schulman at Stanton Communications at (410) 727‐6855 or eschulman(at)stantoncomm(dot)com.