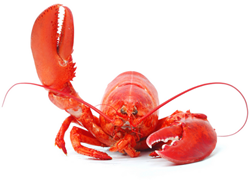 I see every day how life is enhanced by adding lobster.
(PRWEB) August 20, 2013
Now through September 22, seafood lovers throughout the country have the opportunity to vote daily for Get Maine Lobster's chance to win a Super Bowl commercial. The Maine lobster and seafood delivery service is currently near the top 10, and the hardworking team of lobster fanatics would appreciate the support of its customers and supporters.
Mark Murrell, Maine native and founder of GetMaineLobster.com, loves lobster and knows firsthand how every day experiences can be enhanced by simply adding lobster. His goal is to share that experience with others by delivering quality, affordable Maine lobster from the dock to the doorstep.
"I still get charged each day connecting with people to deliver an exceptional experience," says Murrell, founder of GetMaineLobster.com. Being a Mainer, I was clear about how to start my business in Chicago. I knew lobster, the Internet and that I could deliver that delicious freshness to anyone in the United States. I see every day how life is enhanced by adding lobster. In truth I spread joy—that's what I really do and I love it!"
Help Mark spread the good word about Maine lobster by voting once per day here: smallbusinessbiggame.com/me/Black-Point-Seafood--GetMaineLobstercom/373872
GetMaineLobster.com appreciates the support and is looking forward to informing seafood lovers throughout the United States just how easy and affordable it can be to enjoy the incredible flavors of Maine. Learn more about Get Maine Lobster's wide range of seafood offerings, access lobster and seafood recipes, and view current specials by visiting GetMaineLobster.com or by calling (866) 562-4817. Stay updated and Like us on Facebook or follow us on Twitter. For even more lobster news and recipes go to JustAddLobster.com.
About GetMaineLobster.com
GetMaineLobster.com, a division of Black Point Seafood and Black Point Gourmet, hand-selects the finest Maine lobster, seafood and beef products for convenient distribution throughout the United States. Their passion is to make fresh, quality seafood readily available to customers across the country, which is why they buy from only the most trusted, well-established suppliers to ensure that they receive the finest products available.
GetMaineLobster.com was selected out of the more than four million small American businesses served by Chase bank to represent its new Platinum Business Checking product for its 2013 national advertising campaign.