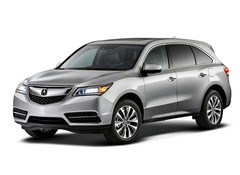 The Cadenza banishes any lingering thoughts that Kia is just a manufacturer of cheap, unrefined cars. Pulling off that high score requires a long list of positives and very few faults.
YONKERS, NY (PRWEB) August 20, 2013
The redesigned 2014 Acura MDX earned a "Very Good" test rating by Consumer Reports. The mid-sized luxury SUV continues the model's long-standing tradition of scoring among CR's top-rated SUVs.
Consumer Reports found the MDX pleasant and well-rounded. The hushed cabin and supple ride are a step up from the previous version, although handling is less agile. The new 3.5-liter V6 engine is quick, responsive, and refined. The MDX delivers impressive fuel economy of 20 mpg overall, which is the same as the diesel-powered Mercedes-Benz GL350 Bluetec and only one mpg fewer than the Lexus RX 350—the most efficient non-hybrid gasoline-powered model in this class.
The MDX has a roomy, comfortable, and functional cabin. Access to the third-row seat simply requires pressing a single button, a clever, user-friendly design that should be a benchmark for competitive models. However, Consumer Reports' engineers complained that the multi-screen dashboard design is unintuitive and can be distracting. Reliability is likely to be above average. The MDX is Recommended by Consumer Reports.
Consumer Reports tests also included the diesel-powered Mercedes-Benz GL350 Bluetec. The GL earned an "Excellent" overall score and stands out as an exceptionally well-crafted package. It offers a plush, quiet, and roomy interior; very comfortable seats; and a long list of convenience and safety features. The GL also provides enough room for seven people to sit comfortably, surprisingly good fuel economy, and plenty of towing capacity. The GL lost points for poor performance in one of CR's emergency handling tests.
Also tested, Kia's Cadenza made an impressive debut in the large sedan category. It scored an 86 and earned a spot near the top of Consumer Reports large sedan ratings. It edged out the Toyota Avalon, which was once a benchmark in the large sedan category.
"The Cadenza banishes any lingering thoughts that Kia is just a manufacturer of cheap, unrefined cars. Pulling off that high score requires a long list of positives and very few faults." said Jake Fisher, director of automotive testing for Consumer Reports.
Thanks to its better ride and handling, the Cadenza also outscores the Hyundai Azera, which shares its platform and powertrain. The cabin is quiet, well-finished, and spacious. Controls are super-simple, rare in a loaded luxury sedan. The refined 3.3-liter V6, which is mated to a smooth six-speed automatic transmission, delivers ample power and a respectable 22 mpg overall. Ride comfort is very good, but the Cadenza lacks the placid isolation of the best-riding cars, such as the Buick Lacrosse and Chevrolet Impala.
Complete tests results for the Acura MDX, Mercedes-Benz GL350 Bluestem, Kia Cadenza, as well as results for the Mitsubishi Outlander and Chevrolet Cruze Diesel appear on http://www.ConsumerReports.org today, and in the October issue of Consumer Reports, on newsstands September 5. Updated daily, ConsumerReports.org is the go-to Website for the latest auto reviews, product news, blogs on breaking news, and car-buying information. Check out CR's ongoing Twitter feed at @CRCars.
Consumer Reports is the world's largest independent product-testing organization. Using its more than 50 labs, auto test center, and survey research center, the nonprofit rates thousands of products and services annually. Founded in 1936, Consumer Reports has over 8 million subscribers to its magazine, Website and other publications. Its advocacy division, Consumers Union, works for health reform, food and product safety, financial reform, and other consumer issues in Washington, D.C., the states, and in the marketplace.
— 30 —
Note to the media: Consumer Reports has B-Roll from its test track available upon request of the Acura MDX, Mercedes-Benz GL350 Bluetec, and Kia Cadenza
OCTOBER 2013
© 2013 Consumer Reports. The material above is intended for legitimate news entities only; it may not be used for advertising or promotional purposes. Consumer Reports® is an expert, independent nonprofit organization whose mission is to work for a fair, just, and safe marketplace for all consumers and to empower consumers to protect themselves. We accept no advertising and pay for all the products we test. We are not beholden to any commercial interest. Our income is derived from the sale of Consumer Reports®, ConsumerReports.org® and our other publications and information products, services, fees, and noncommercial contributions and grants. Our Ratings and reports are intended solely for the use of our readers. Neither the Ratings nor the reports may be used in advertising or for any other commercial purpose without our permission. Consumer Reports will take all steps open to it to prevent commercial use of its materials, its name, or the name of Consumer Reports®.