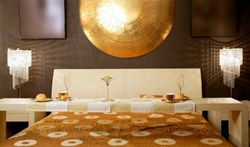 With careful consideration given to allocation of space, activity planning, and flow of movement, the furniture selected will fall simply and logically into place.
San Francisco, CA (PRWEB) August 21, 2013
At some point, every home owner and apartment dweller will wonder what exactly should be their personal home interior design. Our ancestral forbearers had a strict and time honored code to follow in regards to the home interior. Previously, designers were men who took colored earth to rough out the forms of a bison on the wall of a cave to provide instruction before the hunt and to show reverence for the object of the hunt. Ancestral relatives were concerned, also, with the visual and material arrangement of their homes. The sacred was carefully observed in the placement of a hide on the floor and the orientation of the entryway. The sun's light and warmth was the home's source of light and warmth. And the fire within was not for how its visual beauty cheered up the room but for its ability to warm a room, heat the kettle, and bake the bread.
Fast forward to today when few people are involved in the construction of their dwelling. Since we can no longer orient our own entryway nor are dependent on the sun for its light and warmth indoors, there are fewer necessary principles to follow. Manufacturers are the source for today's home products and these essentials are developed according to current design trends rather than sacred need or strict functionality. Current interior design relies on the historical references that abound in architectural and décor details. Rustic, industrial, eclectic, '60's modern or early 20th c. vintage are favorite home interior designs today. Within each style, the individual personalities of a home's inhabitants will provide additional charm – edgy, masculine, feminine, time-worn appeal or budget chic - with their choices and personal collections. Often these styles are mixed and matched, as each family member makes their mark.
So, what direction should a personal home design take today? First, an interior design's success is ultimately judged on how well the room functions per the homeowner's needs. With careful consideration given to allocation of space, activity planning, and flow of movement, the furniture selected will fall simply and logically into place. Contemporary interiors have evolved with "up-to-date" furnishings. With the development of new materials and manufacturing techniques, affordable production has paved the way for new forms in furniture to abound and individual interior designs to emerge. KindaChic.com, an online retailer of home furnishings and décor, is a source of this modern expression in home interior design. Small as well as large spaces will benefit from a variety of layouts achieved with these modular and abstract forms.
Modern homes are more than shelter. They are the private sanctuary of each individual and require their personal expression in the interior design. Residents can begin to express themselves in the home design by pushing the boundaries in one room with a furniture selection in a bold color. For example, choose the Swan Chair offered by KindaChic.com in beautiful red leather. This chair's simple fluid form is the perfect piece to add a vibrant color to a living room or family room design. Set this chair across from a modern sectional sofa that is upholstered in a neutral shade and the color will distinguish both furniture styles. Decorating with strong hues is no longer for risk takers. This is feel-good style for the home.
In a sputtering economy, décor selected in a striking shade can add new life to classic furniture styles. Abstract prints can help break the black or brown comfort zone of leather sectional sofas paired with leather loveseats or side chairs. An abstract print can be added to the room in new draperies, carpet, or framed artwork. Strong, sharp, saturated color paired with graphic black or chocolate brown can be the perfect accent to a room's design. It's hard to deny the power of color. It's mood altering and encourages all kinds of good times to be made.
A smart design to begin with might be a traditionally furnished room in subdued colors that can easily be augmented or updated in small ways by the current fashions in order to discover one's personal expression. The color trends of 2013 will be incorporated in the candles, vases, pillows, lamps, drapery, and rugs to be manufactured, décor accessories that can be easily added to a room design. If 2013, the Year of the Snake and its trends are in alignment, it might be the time for a major change, a home redo that will last for years. And KindaChic.com is just the place to find the modern basics for a room as well as the latest décor accessories.