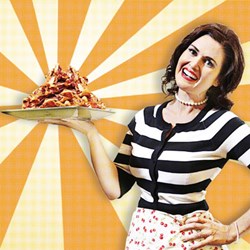 Las Vegas, NV (PRWEB) August 20, 2013
One Nevada Credit Union launched a BACON checking campaign promoting their suite of checking products and all of the new benefits for their accounts such as Ca$h Perks, KeepTrack and free text alerts. BACON is the acronym for Bad A$$ Checking from One Nevada.
The teaser campaign began on Aug. 1 with digital billboards along major freeways and roadways in Las Vegas showing single pieces of bacon. Twitter exploded with tweets about the unique design of bacon and the possibility of the boards being hacked. The bacon reappeared with a shark, in honor of "Shark Week" and later with a trendy mustache. Print ads also ran in the local newspaper showing only a single piece of bacon with the designated hashtag #baconcu. The first commercial can be viewed at http://youtu.be/KVHs0M63Kas/.
A series of three commercials featuring a bacon-obsessed mom cooking up an abundance of bacon to her questioning family began airing on Aug. 19. The bacon-crazy mother suddenly has time for bacon in the morning, making bacon sandwiches for her husband and bacon burgers for dinner for her son and his friend. Both the father and son are shown explaining how bacon crazy she is for her new checking account at One Nevada to questioning co-workers and friends.
Other promotional mediums include a larger-than-life-sized bacon cutout where members visiting a branch can take a photo with the bacon and post to One Nevada's social media sites for a chance to win $250, and a Facebook contest where those who "like" the One Nevada Facebook page can enter for a chance to win a new grill and a year supply of bacon. A website dedicated to BACON was set up for those interested in learning more about the BACON campaign at http://www.baconcu.org/.
BACON is designed to promote awareness of the checking accounts offered at One Nevada and the benefits of each account. Account types include One Checking, One Checking Rewards, MyChecking and New Start Checking. All checking accounts include new, free services such as Ca$h Perks, a way to earn cash back from the retailers members use most; KeepTrack, a personal financial management tool that pulls your account information into one convenient overview; free text alerts to members' mobile phones, a way to receive real-time account alerts.