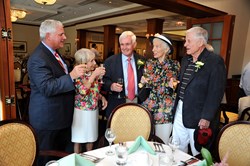 "... we and most others say it's the best decision and best investment we ever made... in our own well-being."
Evanston, IL (PRWEB) August 20, 2013
Lake Forest Place, a Presbyterian Homes continuing care retirement community in Lake Forest, IL, celebrated its 15th anniversary on Thursday, August 15, 2013, with an evening garden party of dinner and dancing to the Bradford Newquist Trio. Guests included residents and senior management, among which were "pioneers"— resident couples who were the first to move into Lake Forest Place and continue to live there today.
"It's an honor to work for such a wonderful organization and build meaningful relationships with both residents and staff," says Paisley Valentincic, director of marketing and the first employee hired at Lake Forest Place. "I enjoy connecting every day with people I have come to know so well, and I continue to believe that the lifestyle and health care security offered at Lake Forest Place is the best model for retirement living."
The 55-acre community opened in 1998 and serves more than 400 residents. Lake Forest Place offers a continuum that includes independent living, assisted living, skilled nursing care, memory care and rehabilitation. In response to ongoing demand, Lake Forest Place added 18 new independent living cottages in 2010. Near future plans include adding more capacity in memory care at its Balmoral Care Center and a major reinvestment program to update all of the main building's interior common areas.
Pioneers Look Back
Jack Bohlen and his wife Alice moved to Lake Forest Place when the doors opened in 1998. They were in their late 70s and had lived in Lake Forest for more than 20 years. The Bohlen's children were grown and their big house was too big for two people and expensive to maintain. They also had a place in Florida where they'd go for the winter. So maintenance-free living and amenities which included 5-star quality dining and access to health care services they may need in the future appealed to them.
"However," recalls Mr. Bohlen, "no one knew for sure what we were getting into. There weren't a lot of other places around like Lake Forest Place. Now, fifteen years later, we and most others say it's the best decision and the best investment we ever made—not just in dollars and cents, but in our own well-being."
He continued "We made so many new friends, they're like extended family. People here are very social and seem to remain in good physical condition. Most of us still live in our original cottages and we do many things together. The community offers us the ability to attend an assortment of cultural events in Chicago without dealing with the traffic and parking. You really get a whole "second wind" to your life here. If I had known what it would be like, I would have done it 10 years earlier."
Another "pioneer" couple, Hilda and Van Gathany moved to Lake Forest Place at ages 69 and 73 respectively, having lived in Lake Forest for more than 40 years. They chose to move Lake Forest Place as a gift to their children, so they would never need to be concerned about their parents' living arrangements or care. Both of the Gathany's own parents had had a wonderful experience in a similar retirement living community and they saw the benefits of the continuing care model.
"We only knew a couple of people when we moved in, but now we know many more, and they have become our best friends," says Mrs. Gathany. " It's so easy to get together with them for dinner, and a community of friends lends a lot of support at times in life when you need it."
"We didn't know the service would be as good as it is—we've been overwhelmed, "says Mr. Gathany. "Not owning a home eliminates finding tradesmen to repair something and worrying about emergencies when we go to Florida. When we're here, a light bulb is replaced without delay. During a snowstorm, I hear the plows early in the morning. I can drive around the campus before I can get out onto a public road."
"Altogether, we love living here and we'd recommend it," concludes Mr. Gathany.
About Presbyterian Homes
Founded in 1904, Presbyterian Homes is a not-for-profit, faith based organization with a national reputation for creating extraordinary retirement communities. Presbyterian Homes serves older adults through its residential and health care programs on campuses in Evanston, Lake Forest, and Arlington Heights, Illinois. The organization is accredited by CARF-CCAC (Commission on Accreditation of Rehabilitation Facilities - Continuing Care Accreditation Commission), the nation's only accrediting body for retirement communities. To find out more about Presbyterian Homes, go to http://www.presbyterianhomes.org.