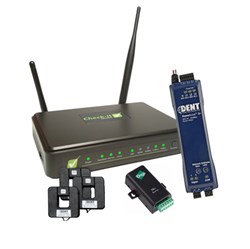 Energy Management kit includes all hardware, software and components.
Regina (PRWEB) August 20, 2013
Check-It Solutions has released an energy benchmarking kit that includes integration with the new ENERGY STAR Portfolio Manager. The Check-It starter kit simplifies ENERGY STAR Portfolio Manager reporting for companies by automatically synchronizing real-time energy and/or water monitoring. This integration is in addition to the many other features including detailed live and historical reports, utility demand charge alerts, and configurable high/low threshold alerts.
Check-It Solutions has been providing reliable and innovative solutions since 2008 to customers around the globe. Now, in addition to providing leading edge monitoring and control solutions, Check-It is able to provide benchmarking services such as commercial building scores, greenhouse gas emission reports, and energy usage per square foot. The starter kit includes all the necessary hardware and software components required to start monitoring energy in most types of commercial buildings.
The Check-It starter kit includes a very streamlined installation process with the CG-300 controller and several types of energy monitors available. The energy monitors report all information as frequent as every 30 seconds to the CG-300, and alerts can be configured on several different parameters. It is also possible to connect multiple energy monitors to receive detailed information on lighting, heating/cooling, or any type of electrical device within the building. All energy and water information can be easily viewed within the Check-It web portal or smartphone apps.
"We have spent a significant amount of time ensuring the installation process is as easy as possible for our customers. The energy or water monitors can be installed by any licensed contractor, and it is simply a matter of a few easy steps with our activation wizard after that," as stated by Jami Manastyrski, President of Check-It Solutions Inc. "Our CG-300 controller can communicate with hundreds of installed monitoring or control devices within an installation."
Benchmarking empowers building owners and managers with the knowledge to run their buildings as efficiently as possible, and is beginning to become a standard requirement. Many US states and cities have implemented mandatory benchmarking for buildings over 20,000 sq ft, including California, New York, Chicago, Boston, Seattle, Minneapolis, San Francisco, with many others following soon. The Check-It starter kit will automate this entire process and removes the need to manually enter information each month.
About Check-It Solutions
Founded in 2008, Check-It is a leading designer and developer of innovative, reliable monitoring and control services. The Check-It Solutions Platform is built using the latest technologies and backed by an experienced software development and hardware design team. The solution includes integration options for hundreds of devices for wireless or wired networks including: ZigBee, Z-Wave, Modbus, BACnet or IP based devices.