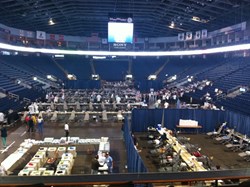 CTMOM is a truly invaluable service, which gives essential dental health care to thousands who are underserved in Connecticut.
Bridgeport, CT (PRWEB) August 21, 2013
There were plenty of smiles to go around after the 6th Annual Free Dental Clinic, sponsored by the Connecticut Mission of Mercy's (CTMOM) and held in June at Webster Bank Arena in Bridgeport, CT. This year there were 121 dentist chairs and 1,500 volunteers. Fairfield CT dentist, Dr. Salvatore Pizzino was one of a few hundred dentists that participated. Along with other volunteer dentists, UConn dental students, dental hygienists and dental assistants, the teams worked together to provide complimentary dental services to people of all ages who are low-income and without dental insurance. There were 2,125 patient visits (1,782 unique patient visits) at the CTMOM clinic, which donated over $1,300,000 in dental care. Dr. Pizzino believes that what Mission of Mercy provides is "a truly invaluable service, which gives essential dental health care to thousands who are underserved in Connecticut."
Mission of Mercy is non-profit organization that sets up temporary no cost dental clinics in over twenty states. The Connecticut chapter began in 2008, changing their event location every year to give others the opportunity to obtain complimentary services closer to their hometowns. Last year CTMOM's dentistry days took place in Danbury and brought over 2,000 people from throughout the state, the youngest patient being 1 year old and the oldest was 86 years old. Typically, people line up early for the clinic since they can only accommodate 1,100 patients a day and they want to make sure they will be seen. Some wait in line overnight, as the clinic opens at 6am both days.
The whole event was funded by donations only, costing anywhere between $300,000 and $400,000. Dr. Pizzino and his fellow volunteers worked two very long days to provide essential dental care to as many people as possible. Dental health is an undividable piece of one's general health that can affect one's self-confidence and self-worth, as well as one's ability to work, go to school, or live a normal life.
The pop up clinic at the arena was well laid out with check in tables at one end and a check out area with a pharmacy at the opposite end. Once patients signed in they were assessed and treated for their most crucial dental needs. Practically all dental procedures were able to be performed, such as X-rays, extractions, fillings, crowns, root canals and partial denture repairs. The arena was divided into sections based on what dental procedures patients needed. It featured a numbing station for patients prior to oral surgery, extractions had their own section, as did X-rays, while other volunteers and patients took refuge in the arena stands while they waited.
Overall, the Mission of Mercy's Free Dentistry Clinic was a huge success this year. As a local Fairfield CT dentist, Dr. Pizzino was incredibly fortunate and proud to volunteer and take part in this event. He's looking forward to next year's dental clinic and would encourage those who are living in the state of Connecticut and in need of dental care, but are uninsured to attend next year's event.
About Southport Family Dental
Southport Family Dental is a Fairfield County practice dedicated to making its patients feel comfortable while providing them with quality dental services in a relaxed, modern and caring environment. Dr. Salvatore Pizzino and his associates are passionate about giving patients new reasons to smile by focusing on the long-term health of their teeth and mouths and the aesthetic beauty of their smiles. From routine exams, cleanings and fillings to Invisalign, restorative work and cosmetic services, the entire staff at Southport Family Dental aims to exceed the expectations of their patients at every visit by taking the time to listen to their needs and never compromising on quality.