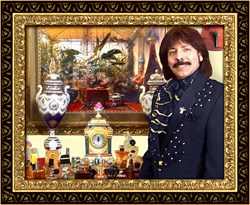 Natural products may be a source of allergens for people with multiple allergic responses and also for asthmatics. So, just because an item is natural, it does not mean that it is without possible allergic responses
(PRWEB) August 19, 2013
The current trend in society is to create a healthier lifestyle. This trend can lead consumers to believe that any item with the word 'natural' in it to be a superior product. The belief is that ingredients that come directly from nature must be healthier. Consumers today are suspicious of any product that lists chemicals and synthetic ingredients on their labels. Hence, the controversy and confusion in labeling between 'Natural' and 'Synthetic'.
The consumers desire to be better informed about what may be in their fragrance is becoming increasingly apparent. The confusion about what really is best for the consumer is increasing as misinformation floods the fragrance arena. There are fragrances that are 100% natural and some that are 100% synthetic and every possible combination in between. The skin is the largest organ of the body retaining approximately 60% of what is put onto it. Fragrances can cause allergic responses, asthma attacks, migraines, nausea, eczema outbreaks, and other possible reactions. It is important to be informed about how an individual responds to a product because since no two people are alike; people may respond differently to the same stimuli.
The debate between the two basic categories of fragrances, natural and synthetic is complex. The synthetic category is further complicated by the very different ways in which an element is considered synthetic. An element may be chemically created or it may start as a natural item that has been structurally altered. Synthetic raw materials used in fragrances may fall into any one of three categories, with two of them being extremely close to the natural product. The synthetic products can be nature identical raw materials, chemically modified natural raw materials, or chemicals that are completely laboratory inspired. Most fragrances use a combination of any of the three categories.
Natural fragrances are created from essential oils and isolates taken from botanical sources that are found on the earth and may also involve the use of animal products. The botanicals come from sources such as flowers and fruits, seeds and sap, bark or leaves and even the wood of some trees. Natural ingredients are harvested from these botanicals and can be expensive to extract and can also be environmentally damaging due to the processes used to retrieve them and due to the scarcity of the natural source. Natural products may be a source of allergens for people with multiple allergic responses and also for asthmatics. So, just because an item is natural, it does not mean that it is without possible allergic responses.
Synthetic fragrances may use any variety of ingredients, including those that are considered natural. Most fragrances that contain synthetic products have been tested for possible allergens because of their novelty in the industry. In some cases the safety issues have been analyzed even more thoroughly than their natural counterparts. It is also wise to know that a synthetic component does not imply that it is inexpensive, as some synthetic components can be more expensive than the originals. Synthetic elements can add an exciting spark to fragrances and can last longer than a natural element. The environmental impact of a few of these items may be something to be considered. Some synthetic elements consume large amounts of energy and can emit harmful CO2; however it is important to consider that this is not always the case. Some synthetics can actually help to preserve rare or endangered natural resources and animals.
In summary, there are positive attributes offered to fragrances from both natural and synthetic sources. Both components add a different spark to fragrances and perfumes. Neither is completely innocent of possible negative environmental impacts. Consumers need to know where their allegiances lie; environmental or personal in order to make the right decision when purchasing a perfume or fragrance. Wearing something that makes the consumer feel good and comfortable in all the ways that are important to him or her is what is of primary importance.
Shawn Rae is a designer, a musician and a humanitarian. His creation, Oneness, is a unique unisex Perfume. It is a dynamic blend of East and West in a combination of Occidental and Oriental ingredients, united together in perfect and harmonious oneness (http://www.OnenessPerfume.com). A universally appealing award winner for the senses, this unisex sensation is irresistible to both women and men alike, as it indelibly leaves one with its timeless message and unforgettable signature. View of the fragrance on YouTube: http://www.youtube.com/watch?v=0wmH5FQZapg.
In all of his endeavors, Shawn is committed to share his resources, time and effort in supporting causes that alleviate homelessness, hunger, disease and despair.
More info: Shawn Rae Video Bio 2013: http://youtu.be/jBt9I3g362Q and at http://www.ShawnRae.com