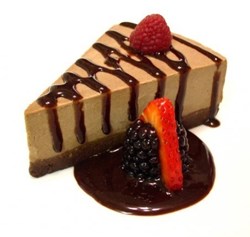 Our life-changing desserts are now available in all 50 states.
Los Angeles, California (PRWEB) August 21, 2013
Earth Cafe Living Foods, the nation's first and leading designer of artisan, hand-made cheesecakes, announced today that its signature gluten-free, dairy-free, but flavor-rich desserts are now conveniently available in local health food stores from the sunny shores of Hawaii to the bright lights of New York City, and everywhere in between. This news inspires great joy for the sector of customers in need of a health-conscious yet sinfully delicious dessert, like those living with Celiac disease, lactose-intolerance, gluten-intolerance, diabetes, and even the rising numbers of people turning to Vegan diets, raw food eaters, fitness gurus, and all lovers of food as well.
"By introducing our life-changing desserts into local health food stores in every state, we are making it easier for customers to enjoy a waistline trimming, satisfying, and healing cheesecake," says Candy Tolentino, CEO and Founder of Earth Cafe Living Foods. "By increasing availability and widening our customer base, we are able to help more people discover the benefits from eating for their body, all without sacrificing the taste they have come to know and love."
In today's world, much of the population is battling obesity, food allergies, cancer, heart disease, and other lifestyle diseases. Earth Cafe is committed to creating cheesecakes that contain ingredients that actually strengthen the body, allowing customers to indulge without the guilt often encountered with other conventional desserts. Earth Cafe's cheesecakes are made without flour, refined sugar, Trans fats, dairy, or other low-quality ingredients.
"This is great news for vegans, gluten-free enthusiasts, raw foodists, as well as conventional eaters, because our deserts are 100 percent vegan and made with raw ingredients, yet they rival the rich, sugar and dairy-laden desserts many of them used to include as staples in their diet," boasts Candy, who previously was unable to effectively digest a meal. For many years she was depressed, had low energy, suffered from migraine headaches and other illnesses, and was forced to learn to rethink food as medicine, but didn't want to compromise on taste or pleasure.
"Through my personal health challenges, I learned that healing truly is possible from changing the way one chooses to eat. I also learned that healthier diets aren't usually sustainable, unless eating healthy food is still an indulgent experience. I wanted to make a dessert that contained food and nutrients I needed to see more of in my diet and thus, Earth Cafe was born," says Tolentino. Earth Cafe desserts have since been named a "Staff Pick" by VegNews Magazine. They are a winner of the coveted Vegetarian Times "Foodie Award." Other notable awards include "Best Raw Dessert" at World Vegan Day and an enthusiastic recommendation given by Phil Lempert, the Supermarket Guru, as featured on the Today Show, The View, and many others. Founder Candy Tolentino and her companies have also been featured on Fox News, The Washington Post, HuffPost Weddings, The OC Register, Vegetarian Times, VegNews Magazine, DailyFinance.com, The Cooking Channel, Veg News Magazine, and HGTV, to name a few.