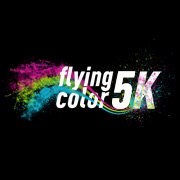 A portion of the race proceeds for the Boston color run will benefit Special Olympics Massachusetts.
Boston, MA (PRWEB) August 21, 2013
Color running has attracted the attention of millions of runners, families and teenagers alike with their unique, "just for fun" atmosphere. Those looking to run a 5k, The Flying Color 5K is making its first stop just outside the metropolitan area of Boston, Massachusetts to bring color run fans an even better, more vibrant experience.
A race where participants care less about who finishes first and more about having fun getting colored on a run, the Flying Color 5K is untimed and the ultimate adventure for all ages. The runners start out as a blank canvas and are doused with a colorful cornstarch powder mixture by volunteers at each kilometer, turning each person into a walking one-of-a-kind piece of artwork by the time they reach the finish line.
Those interested in flying their colors can register for the color 5k run outside of Boston in Haverhill, MA on October 19th and can get a discounted registration rate for just $35 until August 31st. And those who like Facebook will be automatically entered into a sweepstake for a chance to win free tickets to the Haverhill color run. A portion of the race proceeds for the Boston color run will benefit Special Olympics Massachusetts. Those interested in the other upcoming destinations are encouraged to check back on the Flying Color Run 5K's website and also vote for their hometown. Updates will also be posted to the picturesque event's social media platforms which are Twitter, Facebook, YouTube, flickr, Google+, Pinterest and Instagram and can all be found at the top of every page on the website and features a comprehensive feed on the Media tab.
About The Flying Color Run 5K:
The Flying Color Run 5K is an untimed 5k color run 2013 race that aims to encourage healthy activity with a burst of color to help bring out runners' wild side! The Flying Color Run 5K believes that 5K's don't always need to be about competition, but more about having fun. Everyone is invited to participate, from first timers to experienced athletes. Runners start the race with a fresh canvas – all white clothing, then at each kilometer, color run volunteers throw color into the air, turning each participant into a running Jackson Pollock! For more information about the Flying Color Run 5K or to register for a race, visit http://www.flyingcolorrun.com.