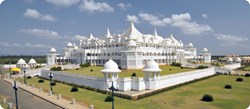 Los Angeles, California (PRWEB) August 21, 2013
SoCal Oneness, a local, grassroots community associated with Oneness University, a spiritual organization founded to awaken humanity into oneness, announced today that they will be hosting founder Sri Bhagavan via a live webcast from India at The Seaside Center for Spiritual Living, Encinitas, California. This unique event will be held on Saturday, September 21st from 8:30am to 11:30am during International Day of Peace. Sri Bhagavan, in his first live meeting with North America in two and a half years, will address the importance of awakening North America and will lead a meditation and blessing with the intention of bringing participants into higher states of consciousness. Doors open at 8 am and the registration fee is $15 if purchased online in advance or $25 at the door. Tickets are available at http://brightstarevents.net/show.cfm?id=5094.
It is natural to feel a need to end our suffering, and have direction and meaning in our life. In this day and age, with life's many distractions and the constant chatter of the mind it's nearly impossible to attain clarity and fulfillment in every action. During this event, Sri Bhagavan will answer questions that have been directed to him by communities across North America with a focus on how awakening and raising our level of consciousness will not only increases our level of joy and happiness but affect the consciousness of the nation and how that transformation can help the whole planet. In addition to time with Sri Bhagavan, the program will conclude with a Oneness Meditation for awakening delivered by 6 Oneness Meditators.
The Oneness Meditation is a new and powerful meditative process where divine energies are transmitted to awaken the spiritual energy within. This unique form of meditation offers the opportunity to free the mind and appreciate every moment as it is. Scientifically speaking, the Oneness Meditation creates a neurobiological shift in the brain. This shift calms the parietal lobes and increases activity in the frontal lobes, an area associated with the experience of living in the Now.
We welcome people from all walks of life, all backgrounds, and all faiths to experience this personal and global transformation.
About Oneness University
Oneness University is a spiritual organization, founded by Sri Amma Bhagavan that seeks to alleviate human suffering at its roots by awakening humanity into oneness, wherein every individual feels connected to all that is. A center for learning and growth, Oneness University creates an atmosphere for people to learn and grow in consciousness leading to a 'happy' individual and family. Catering to people of every faith and all walks of life, the University represents growth and learning in both the internal and the external spheres of life. For more information please visit http://www.onenessuniversity.org.
About SoCal Oneness
SoCal Oneness is a Southern California grassroots community of people that have trained and experienced processes at the Oneness University and are certified to lead Oneness processes and courses and initiate Oneness Blessing givers. SoCal Oneness also offers courses and programs throughout the region to help people from all paths, faiths, and walks of life to grow into the natural state a human being is built to be in, a state that is one with all that is. For more information please visit http://www.socaloneness.org.