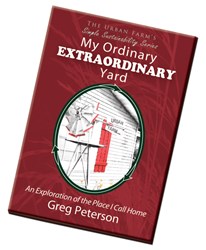 Becoming an urban farmer is as easy as growing food, sharing it with others and most importantly naming your farm.
Phoenix, AZ (PRWEB) August 22, 2013
Growing food in the city? Really? The Urban Farming revolution is upon us with homeowners across the country turning their urban flowerbeds into mini-farms and converting their flowerpots into edible garden delights. This new breed of farmers is growing a wide variety of fruits, vegetables and raising chickens, goats and sheep. Some new farmers are also starting businesses with the intent of creating an income.
Urban Farmer Greg Peterson explains, "The most expensive produce to buy are herbs and they are the easiest to grow. I encourage you to plant that pot full of basil, thyme and oregano so that you have fresh healthy herbs, right at your kitchen door." Yes it is that simple to start growing your own healthy food.
In Peterson's MiniBuk My Ordinary, Extraordinary Yard, he shares the simple process of how he transformed his residential landscape into an edible garden delight. Explaining how a reader can create their own "urban farm" in even the smallest of spaces – this is gardening at its most rewarding. He shares how he planted more than 80 fruit trees, grew a wide variety of vegetables and herbs, raised chickens and even had 3 kinds of solar panels on his roof all within his 80-foot by 160-foot lot that includes a modest 1949 home.
Dubbed The Urban Farmer, the author draws from the knowledge he gained while earning a masters' degree in Environmental Planning, along with his hands-on experience, to inspire readers in the creation of a sustainable and fulfilling edible landscape of their own. He shares his methods for starting slow and successfully growing an organic, edible landscape and creating a harvest that takes into consideration all the resources available.
Not an urban farmer? Peterson says think again, "becoming an urban farmer is as easy as growing food, sharing it with others and most importantly naming your farm." Establishing an urban farm can be as simple as: planting edibles in flower beds or even window boxes; planting fruit trees in a hedgerow; recapturing rainwater and greywater to support the garden; or installing solar panels, to 'harvest' the sun.
My Ordinary, Extraordinary Yard is his first of a series of MiniBuk's called The Urban Farm's Simple Sustainability Series that comprises a variety of easy-to-do and rewarding facets of the greener living adventure. My Ordinary, Extraordinary Yard is available to download at http://learn.urbanfarm.org/your-free-ebook/
Here's to the health and happiness your gardening efforts will provide!
About Urban Farm
UrbanFarm.org is the home of a wide range of urban farming resources, education, tips and the 10,000 Urban Farms Project, which was created to discover a farm on every street. Founder Greg Peterson began gardening in Phoenix, Ariz. in 1975, discovered permaculture in 1991 and dubbed his personal residence in central Phoenix, The Urban Farm, in 2001. Peterson earned his Masters in Urban an Environmental Planning from Arizona State University in 2006. His long history of environmental learning and growing food in the city contributes to the success of UrbanFarm.org. Peterson wrote and published The Urban Farm Simple Sustainability Series, sits on the board of Native Seed/SEARCH and teaches the class Sustainable Food and Farms at Arizona State University. To find out more visit http://www.UrbanFarm.org