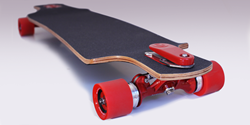 San Diego (PRWEB) August 21, 2013
The inventor of a revolutionary skateboard braking system has launched a project for funding on crowdfunding web site Kickstarter.
Ben Newman, the product's designer, has won several awards for business innovation and inventiveness with Brakeboard, a braking system for longboard skateboards.
Located in the rear axle and operated by a pedal mounted on the surface of the deck, the brake allows riders to undertake steep hills and control speed without having to slide or put hands or feet on the ground.
The brake can be retrofitted to any longboard deck and used with wheels of the riders' choice.
Popular with commuters and students negotiating their university campus, the brake adds a new dimension to longboarding. The brake also broadens the target market to include younger and older riders.
Although North America is the biggest market, early adopters from around the world have embraced the product with enthusiasm. Longboarders from Europe, South Africa, Asia, Oceania and Russia are riding Brakeboards.
Until now, funded by family and friends, Newman seeks support through the crowd-funding website, Kickstarter. Additional funding will enable further product development, including testing new braking materials for the daredevils who undertake high speed down-hill riding.
Kickstarter has brought much-needed financial backing to many innovative products. There are a range of rewards for pledges made to Brakeboard LLC, from a simple recognition on the product's website through to personally autographed boards complete with the braking mechanism and specialized wheels.
The Kickstarter project will commence 19th August 2013 and run for 30 days.