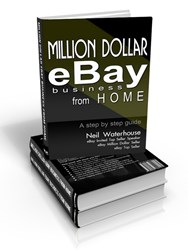 We see it as a much less expensive, more profitable option. - Neil Watershouse
Sydney, Australia (PRWEB) August 21, 2013
Waterhouse Research employees, including founder and author of "Million Dollar eBay Business From Home – A Step by Step Guide," Neil Waterhouse, will be traveling to Toronto, Ontario, Canada for The National Franchise & Business Opportunities Show held September 7 and 8.
Waterhouse Research will be offering an alternative route to building a franchise by detailing how to build a successful eBay business. The proven algorithm that the company has developed finds the most popular items on eBay by tracking more than 4 billion keywords.
"Our reason to be there is to promote Waterhouse Research, as we believe it is a better option for most people than a franchise," Waterhouse said. "We see it as a much less expensive, more profitable option."
The eBay experts will be hosting a booth during The National Franchise & Business Opportunities Show in Toronto at The International Centre. This will provide people interested in starting an eBay business the opportunity to talk with professionals who know the ins and outs of what to sell on eBay. They can learn how the program works and sign up to begin learning the best items on eBay.
Waterhouse Research doesn't just identify what to sell on eBay, it find which items are the most profitable best sellers, meaning they only inform users of items that have at least a 100 percent return on investment. The items they provide to subscribers have high volume, high profit and low competition.
Beyond finding which products to sell, Waterhouse Research connects online sellers with wholesale retailers to ensure they receive high quality products at the best price.
"Waterhouse Research doesn't just answer the question, 'What do I sell online?' but the program tells you how to get that product and sell it successfully," Waterhouse said. "We teach people the best practices for selling on eBay."
To learn more about The National Franchise & Business Opportunities Show visit: http://www.franchiseshowinfo.com/toronto-september-show/visitor/.
To find out more information about how Waterhouse Research please visit http://www.waterhouseresearch.com .
About Waterhouse Research
Waterhouse Research is the brain child of Neil Waterhouse, author of eBay book "Million dollar eBay Business From Home – A Step By Step Guide."
The concept of Waterhouse Research began its creation back in 2002 by Neil to help him find out which items (keywords) were the hottest items on the internet. Neil would track these keywords and see which keywords reported a sale. The goal of Waterhouse Research is to help eBay sellers make more money on eBay by showing eBay sellers which items to sell and reveal the suppliers. Our mandate is to help eBay Sellers make more money. Our customers vary from new customers learning how to sell at eBay to top 500 eBay businesses. Our customer service team is here to help you. Their job description is "To make you smile!" and we find the best way to do this is help our customers make more money. We take pride in our work and offer a no questions asked 100% money back guarantee on everything we do.