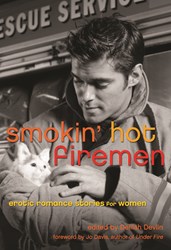 There are seventeen stories in this anthology, and not a single one was disappointing. Not one.

—Ms Romantic Reads
(PRWEB) August 20, 2013
Delilah Devlin, editor of the newly released romance collection Smokin' Hot Firemen, was recently featured on USA Today's Happily Ever After. Joyce Lamb interviewed Devlin on the near-universal appeal of firemen as romantic figures. The prolific author and editor elaborated on the figure of the firefighter:
"Take that same raw physicality, fearlessness, and extreme focus and let that man loose in a bedroom with a woman he has pursued — you know you'll have the sweetest, hottest combustibles ready to ignite."
Devlin also asked several of the contributing writers for their opinions on what makes firefighters so attractive to women. Adele Dubois, author of Hook Me Up, opined that "A firefighter is the closest real-life icon our society has to Superman."
What people are saying about Smokin' Hot Firemen:
"There are seventeen stories in this anthology, and not a single one was disappointing. Not one."
—Ms Romantic Reads
"Firemen are literally my hottest fantasy."
—Books a la Mode
Rugged firefighters are the number one romantic fantasy—they enter fiery structures with selfless courage and are the very definition of the word "hero." Women understand their allure—soot-covered faces, sweat dripping from hard, chiseled muscles, the sharp snap of suspenders (yes, only a fireman can make suspenders sexy!). Delilah Devlin's burning-hot book teems with gorgeous firemen and stories from some of today's hottest romance writers. In "Saving Charlotte," Sabrina York's firefighting Dom rescues a woman tied to a red-hot bed; a fire chief fulfills some very steamy fantasies in Cathryn Fox's "Temperature Rising." Elle James's "Chasing Fire" follows a daring smoke-jumper as he parachutes into the hot zone of a forest fire, then sets his girlfriend ablaze with erotic heat; and Magic Mike ain't got nothin' on Delilah's own fireman-turned-exotic-dancer-for-a-night in "Johnny Blaze." Along with a list of award-winning authors that includes Ily Goyanes, Shoshanna Evers, Adele Dubois and Rachel Firasek, Delilah delivers tales of these courageous men breaking down doors to steal readers' hearts! Smokin' Hot Firemen imagines the romantic possibilities of being held against a massively muscled chest by a man whose mission is to save lives and serve every need.
Delilah Devlin's books include High Octane Heroes, Into the Darkness, Seduced by Darkness, Darkness Captured, Down in Texas, and Texas Men. Her short stories have been featured in Zane's Purple Panties, Lesbian Cowboys, Girl Crush, Carnal Machines, and Passion. She lives in Arkadelphia, Arkansas.