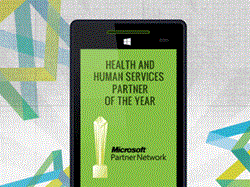 This achievement recognizes CoCENTRIX's exemplary commitment to Microsoft and to the Health and Human Services field
Sarasota, FL (PRWEB) August 20, 2013
CoCENTRIX, a leading technology provider of coordinated care solutions to state Health and Human Services Departments, County Agencies and Community Providers, announced it has been named as Microsoft's 2013 Health and Human Services Partner of the Year.
This award highlights partner organizations that excel at providing innovative and unique services or solutions based on Microsoft technologies to Public Sector customers. The Partner of the Year Award recognizes CoCENTRIX for excellence and achievement in producing exceptional results for its customers by providing solutions that address the challenges created by the Accountable Care Act, implementation of Consumer Driven Initiatives and increased financial pressures.
The award was conferred and presented to CoCENTRIX by Microsoft's Public Sector Executive Team during the 2013 Microsoft Public Sector Industry Solution University (ISU) annual event held in Chicago on July 30, 2013.
"Our partners work hand in hand with us to extend the missions of our public sector customers," said Vince Menzione, General Manager of Microsoft's Public Sector Partner Program. "This achievement recognizes CoCENTRIX's exemplary commitment to Microsoft and to the Health and Human Services field."
Over the last year, CoCENTRIX has significantly increased the adoption of its Coordinated Care Platform within States, Counties and Community based organizations across the U.S. enabling them to Connect, Collaborate and Coordinate Care.
"We are pleased to be recognized by Microsoft for our use of their technology in the delivery of our solutions to the Health and Human Services Industry." said Leigh Orlov, President of CoCENTRIX. "We are empowering state agencies and community providers to rapidly respond to change, coordinate care, and deliver Consumer Centric Services across the entire continuum of care."
CoCENTRIX's flagship product, the CoCENTRIX Coordinated Care Platform, is built on the world-class technology and open architecture of Microsoft Dynamics. The platform includes an ONC-ACB certified Electronic Health Record, Coordinated Case Management, Managed Care Solutions, and interactive, mobile consumer applications that further streamline the delivery of services across the entire continuum of care.
About CoCENTRIX
CoCENTRIX is a Health Information Technology company that provides innovative solutions to connect collaborate and coordinate care and services across and amongst Health and Human Services, Education, Justice & Public Safety Departments, Community Service Providers and the Consumers in which they serve. For over 32 years CoCENTRIX has been delivering consumer-centric solutions for organizations enabling them to significantly improve clinical, financial and operational outcomes.
Today, more than 500 agencies in 42 states are utilizing CoCENTRIX technologies to efficiently and cost-effectively coordinate services, maximize stakeholder's investments, and improve the health and safety of the populations they serve.