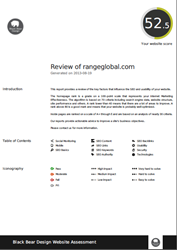 We launched this free service so we can help small businesses quickly determine why their website is not performing
Atlanta, GA (PRWEB) August 21, 2013
This new announcement comes on the heels of the company shifting its focus to only providing web design and internet marketing services. In a release by the company last month, Black Bear Design announced they were dropping their print and logo design services and focusing on "Creating Remarkable Online Experiences."
"Running a small business is hard," stated Joel Black, owner at Black Bear Design. "This free service was launched to help small businesses quickly determine why their website is not performing. After determining why, Black Bear Design can then create a solution to generate more leads and help small business stand out in the forest."
The company has taken some bold moves lately that seem to be paying off, cutting two of their main service lines to focus on web services. Company officials state that Black Bear Design wanted to give their clients unparalleled web services, and the only way to do that was to focus on what they did best, managing small businesses' online presence.
The website analysis contains a very comprehensive report showing improvements and ideas such as social impact, mobile analysis, on-page SEO improvements, page structure improvements, off-page SEO, page rank and authority, usability improvements, server and speed test and code validity. The company also offers a personal presentation of the results and a consultation with solutions. They also tell state that a free Google Adwords analysis service will be offered very soon.
Black Bear Design urges small businesses to take advantage of this free website analysis by visiting their website and looking for the free website analysis graphic.
Black Bear Design is a Web Development company in Atlanta specializing in web design, internet marketing, SEO and PPC advertising. To learn more about Black Bear Design, visit http://webdesigncave.com or call 678-534-1143.