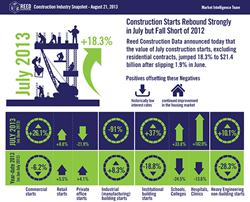 The good news is that starts were up significantly in July over June. This was true from retail starts to health care starts to water and sewage project starts.
Norcross, Ga. (PRWEB) August 21, 2013
Reed Construction Data announced today that the value of July construction starts, excluding residential contracts, jumped 18.3% to $21.4 billion after slipping 1.9% in June. Since the starts data are not seasonally adjusted (NSA), caution should be used in analyzing monthly movements. Year-over-year comparisons are often used, as they reduce or remove much of the seasonal effects. Despite July's sharp improvement over June, starts were down 6.6% compared to July 2012. The year-to-date starts data, which totaled $131.5 billion, painted an even gloomier picture—down 19.5% from the same period in 2012.
According to Bernard Markstein, U.S. Chief Economist, Reed Construction Data, "Reed's July nonresidential construction starts report provides both good and bad news. The good news is starts were up significantly in July over June. This was true from retail starts to health care starts to water and sewage project starts. The bad news is year-to-date starts were down relative to the same period in 2012 for almost all categories. Only a few areas such as retail starts and private office starts showed improvement over a year ago.
"Only when overall economic growth improves beyond the lackluster performance of the first half can we expect to see nonresidential construction improve significantly."
The value of construction starts each month is summarized from the Reed database of all active construction projects in the U.S., excluding residential construction. Missing project values are estimated with RSMeans building cost models.
Monthly commercial starts have varied considerably in recent months. In July, commercial starts shot up 26.1%, after plunging 43.8% in June. Year-to-date, commercial starts were down 6.2% from the same period last year. One positive for the group was retail starts, the largest category in the group, which was up 8.8% in July and up 5.5% year-to-date.
Private office starts, the next largest category, although down 21.9% for the month, were up 22.6% from July 2012 and were up 4.1% on a year-to-date basis.
Industrial (manufacturing) building starts continue to exhibit major fluctuations in the monthly numbers. After hurtling 69.4% higher in May and advancing 2.7% in June, manufacturing starts nose-dived 91.0% in July. Nonetheless, year-to-date starts were up 8.3% from the same period in 2012.
Institutional building starts leapt 37.0% in July after no change in June. On a year-to-date basis, however, starts were 18.8% lower. Construction activity for the institutional building group has struggled this year. January through June Census Bureau NSA construction spending numbers for the group were down 7.3% from the same period in 2012. The outlook for the group remains poor in the near term, with starts for the largest spending category, schools and colleges, down 24.5% on a year-to-date basis even as July starts spurted 33.8% higher. Further, although starts for the next largest spending category, hospitals and clinics, doubled (+102.9%) in July, they were 24.6% lower than in July 2012 and were 13.6% lower on a year-to-date basis.
The lackluster performance of nonresidential building starts this year is due to the meager growth in the U.S. economy, with first quarter real (inflation-adjusted) growth in gross domestic product (GDP) of 1.1%. Second quarter growth of 1.7% was better but hardly stellar. Consequently, most companies have been reluctant to invest in new plant and equipment.
Even with improved growth, numerous risks to the economy remain. These risks include likely political wrangling over funding federal government operations for the fiscal year that starts October 1, as well as the need to raise the federal debt ceiling after that. With only about nine working days to enact legislation to fund the government after Congress returns from vacation, passage of the needed bills seems unlikely. The probable near-term outcome is a continuing resolution (CR) to fund government operations. It is not clear if the sequester will remain in place under a CR. The result of these risks is greater uncertainty regarding the U.S. economy's future, adding to the drag on business investment.
Markstein also noted, "A few positives offset the negatives, helping boost the economy and construction. These include continued improvement in the housing market and, despite recent increases, historically low interest rates. The outlook is for moderately improving economic growth, which will foster more nonresidential construction."
For the third consecutive month, heavy engineering (non-building) starts increased by double digits, rising 10.1% in July after soaring 46.7% in June and rocketing 69.8% in May. Despite these upsurges in monthly starts, July year-to-date starts were 28.3% lower than over the same period in 2012. All the categories in the group increased in July except for road and highway starts, which were down 14.0%. On a year-to-date basis, however, all categories were down, except for dam and marine starts, which were up 4.4%.
Heavy engineering projects continue to be held back by reduced government funding, although there are some early signs of improvement on this front. Nevertheless, new projects are often the result of public-private partnerships. Dependence on these partnerships will continue to dominate for the foreseeable future.
A start is determined by taking the announced bid date and adding 30 days. It is then assumed the project will actually break ground within 30-60 days of the start date. Reed continues to follow the project via our network of researchers, so if the project is abandoned or rebid, the start data are subsequently updated to reflect the new information.
About Reed Construction Data
Reed Construction Data, a division of Reed Business Information and the Inaugural Strategic Partner of the AIA, is a leading North American provider of construction information. Reed provides actionable insight to construction professionals through a diverse portfolio of innovative products and services, including national, regional and local construction project data, accurate and reliable construction cost data, effective marketing solutions and dynamic market intelligence. To learn more about Reed, visit http://www.reedconstructiondata.com.