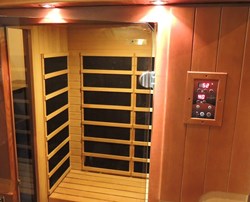 Release toxins, burn calories
Ottawa, ON (PRWEB) August 20, 2013
Individuals that suffer from severe muscle tension can find relief in an infrared sauna that will now be available at TEAL, a holistic spa and wellness clinic.
"TEAL is thrilled to provide customers with this new Infrared Sauna at TEAL Ottawa] treatment," says Seema Kudesia, TEAL's Clinical Director, "...drains toxins, flows circulation, supports immune system."
For individuals who work constantly, they carry a lot of tension all over the body. In order to help get rid of some of that tension, relaxing in an infrared or steam sauna can greatly improve muscle aches. Slightly different from a normal sauna, an infrared sauna filters out the UV radiation so it only gives individuals the infrared radiation.
The health benefits of this spa and wellness ritual can improve the lives of individuals that suffer from arthritis and frequent muscle aches and pains. Sauna services also increase perspiration, thus increasing an individual's heart rate so it starts to release toxins from the body and burns calories.
Prior booking is recommended. For more information about the new Infrared Sauna service, please visit: http://tealwellness.com/wellness/infrared-steam-sauna.html.
About TEAL:
Established in 1998, TEAL is a Canada-based holistic spa and wellness clinic. TEAL offers a wide variety of services, each one personalized to a customer's specific needs. Specializing in everything from herbal medicine to laser treatments, the wellness clinic offers health and beauty solutions for anyone who walks through their doors. TEAL strives to promote self-confidence and inner beauty for all of their customers. For more information, please go to tealwellness.com or visit 570 Montreal Road, Ottawa ON or call (613) 745-3418.