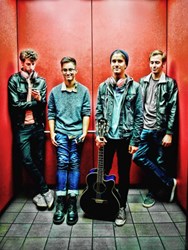 "We found out it was sold out 18 minutes before we went on," says Gabe Stein, drummer of Finish Ticket, "and that made everything okay."
Morgan Hill, CA (PRWEB) August 20, 2013
Velodyne Acoustics, known for their high-performance headphones and low distortion subwoofers, interviewed Gabe Stein from Finish Ticket about their show. The band, which formed in 2008, played a sold out show at the Great American Music Hall on August 16th. Along with Gabe Stein, the band consists of twin brothers, Brendan and Michael Hoye and Alex DiDonato.
Velodyne interviewed drummer Gabe Stein after the show. Stein described his favorite moments, such as seeing his entire extended family in the crowd and the moment the band came back on stage after the encore. The most challenging moments he said were getting ready and anticipating such a huge event. "We found out it was sold out 18 minutes before we went on," says Stein, "And that made everything okay." In answering the question, if you were a type of animal on stage, what would it be, he says, "A driving horse. I learned at a young age the drummer is supposed to help keep the band together, keep everything moving, control the pace. So I would say a horse, but in a cool way!" Go here for the full interview>>
Velodyne was lucky enough to attend the show. "The energy from both the band and the fans was just amazing," says Lanae Bays, Marketing Manager at Velodyne. "Right before Finish Ticket went onstage, they announced the winner of our merchandise pack complete with a t-shirt and a pair of vFree headphones. It was a great way to partner with local talent and support this up and coming band."
About Velodyne:
Velodyne Acoustics, Inc., founded in 1983, is universally recognized as the leading manufacturer of high-performance, low distortion powered subwoofers at all price levels. Velodyne recently expanded their audio product line, adding high-performance headphones like the wireless Bluetooth vFree and noise cancelling vQuiet. Headquartered in Silicon Valley, California, the company's technically innovative audio products can be found at Airport Wireless stores throughout the nation and online at http://www.velodyne.com.