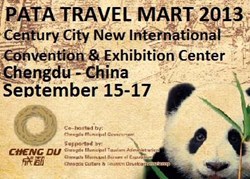 I believe this travel mart will offer a great platform to increase our brand awareness. -- Helen Wang
(PRWEB) August 20, 2013
Chengdu, the capital of Sichuan province, will become the first city in Midwest China to host the Pacific Asia Travel Association (PATA) Travel Mart 2013 from September 15th to 17th. Helen Wang, the sales manager at WindhorseTour, will attend this important conference.
"We have received several invitations from other international tourism companies who are looking to build a long-term business relationship with us at the mart." Helen Wang expressed.
As the leading travel event in the Asia Pacific region, PATA Travel Mart brings together hundreds of international buyers and sellers in one marketplace to build the business through hosting networking functions, dynamic education programmes and sponsoring delegate items.
The key sponsors at the mart include Travel Weekly and Travel Weekly Web.
"We are excited to have this opportunity to showcase our expert knowledge of being a local travel agency and the first hand experience of organizing a private tour to China. I believe this travel mart will offer a great platform to increase our brand awareness." Helen Wang said.
Following Hong Kong, Hangzhou and Macau, Chengdu is the fourth Chinese city to win the bid to host PATA Travel Mart.
Mr. Martin J. Craigs, PATA CEO, said, "PATA has been working closely with Chengdu in many capacities over the past years including the development of tourism training, co-branding a seminar on global tourism trends and destination marketing. This is another great reason to join the PATA next generation family and build your business."
WindhorseTour specializes in creating tailor-made experiences based on every client's unique needs and operating groups to all provinces. Please visit WindhorseTour.com for more information or contact them by phone calls or E-mail.
Email address: news.windhorsetour.com
TEL: (+86)-28-85593923, (+86)-28-86254701
Fax: (+86)-28-86254710